Business Security System Installation and Support.
March Networks (Nettuno) Mini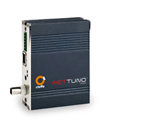 Key features
Completely embedded non-PC architecture
DSP based hardware – flexible and future proof architecture
Multi role – encoder (SPECTIVA e LINEARIS Network Interface)
Exceptionally high quality of video and audio using MPEG4 compression
Encoding speed of 25/30* full resolution images per second at maximum quality and resolution
Seamless and transparent integration into SPECTIVA DVMS networks – all SPECTIVA features extend to network cameras connected via SPECTIVA Network Interface
PTZ Control – fully integrated multi vendor PTZ support with minimum latency
Powerful networkabilty – true client server architecture with full remote control via TCP/IP and unlimited scalability
Light and compact
Solid state, low power design
Auto-configuration wizard
Full screen live
Multi-vendor PTZ
Alarm input
Relay output
Firmware upgrade via the network
Compatible with existing networks
NETTUNO MINI is a new, standalone, no PC based, compact, solid-state, fully embedded video codec capable of encoding video and audio from an analogue video/audio source in real time.
NETTUNO used a dedicated 600Mhz programmable DSP to deliver full frame, full resolution, excellent visual quality real-time video, encoding on the fly, all in one compression engine that is capable of 2 multi-stream MPEG4.
NETTUNO MINI is compatible with any analogue camera and incorporates a fully integrated single bi-directional audio channel and a multi-vendor PTZ control (RS 422/485). Single alarm input and auxiliary output are also provided.
NETTUNO is a low power, a firmware-based device which runs without an operating system to provide the ultimate in performance and reliability. Experience the difference of deterministic, real-time (25/30 IPS per camera) multi-compression performance at full PAL/NTSC resolution (720 x 576 pixels / 720 x 480 pixels).
WHY NETTUNO
NETTUNO, whether operated as standalone or combined with the powerful CIEFFE SPECTIVIA and LINEARIS Digital Video Management System (DVMS) platform, allows you to create extremely high performance, high-quality digital CCTT networks that are both infinitely scalable and flexible. NETTUNO eliminates the need for conventional camera/PTZ control cabling – all video and audio is delivered over TCP/IP network for live viewing and recording with no interference.
NETTUNO MINI delivers full frame, full resolution, excellent visual quality real-time digital video and audio over TCP/IP, for seamless integration into network-connected CIEFFE SPECTIVA and LINEARIS Digital Video Management Systems.
The programmable DSP approach provides for a flexible, future-proof solution – NETTUNO firmware is upgradeable -enabling easy support for new and improved future compression algorithms.
State of the art DSP hardware-based compression engine provides superior performance and high-quality lip synchronised video and audio at all times, regardless of image content.
NETTUNO integrates seamlessly and transparently into any SPECTIVA and LINEARIS DVMS as a network connected camera – natively supported by CIEFFE site manager, CIEFFE SPECTIVA Remote Control and Vision WEB – enabling control, configuration and operation of NETTUNO connected devices directly from any client.
COMPATIBLE SOFTWARE
Remote Control – Full TCP/IP Client
Remote View – Simple TCP/IP Client Movie Viewer
Vision Web – Internet Explorer TCP/IP Client
Vision Pocket – Pocket PC Client
Site Manager – Full TCP/IP Multi Server Client
CIEFFE Developer Kit – API
Specification
| | |
| --- | --- |
| Video Input | 1 |
| Loopthrought | No |
| Video Output | No |
| Audio Input | 1 Stereo |
| Audio Output | No |
| Simultaneous Encoders | 2 |
| Simultaneous Decoders | N/A |
| Compression algorithm | MPEG4 Main Profile |
| Supported Resolutions | 720 x 576/720 x 480 (D1), 720 x 288/720 x 240 (2CIF), 360 x 288/360 x 240 (CIF), 180 x 144/180 x 120 (QCIF) |
| Web Server | Yes |
| Processor | DSP 600Mhz |
| Dome Control | RS.485 |
| Ethernet | 10/100 Mbit |
| Power over Ethernet (PoE) | No |
| SD Slot | No |
| Power Supply | 12Vdc |
| Power Consumption | 4W |
| Operating temperature | 5-55°C |
| Relative humidity | 8-90%, non condensing |
| Weight | 0,5 Kg |
| Dimensions | 90W x 80D x 35H mm |