Business Security System Installation and Support.
March Networks (Nettuno) Mega PX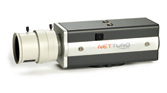 Key Features
Fully embedded architecture
Customizable DSPs for a modular, flexible architecture
Native support for multiple compression algorithms
Progressive scan sensor
Analogue to digital converter (ADC) for each pixel
Zero Smear
Minimal Blooming
Wide dynamic range
White balance: auto tracking, manual, and presets
Gamma Correction options
Electronic shutter
Automatic Gain Control
Backlight compensation control
B/W mode
Excellent video quality thanks to MPEG4 Main Profile compression
Simultaneous MPEG encoders: 4
Transmission of up to 25/30 FPS (*) images at full resolution and maximum quality
Seamless integration with SPECTIVA and LINEARIS DVMS networks
Real architecture client-server with total control via TCP/IP for unlimited scalable solutions
Integrated Web Server
PTZ control via RS485 serial port
Visualisation
The new NETTUNO Mega PX network camera is equipped with a high resolution (2 Mpixels) CMOS sensor by Micron.
NETTUNO Mega PX can send to the network high-resolution images – 1600 x 1200 or 2 Mpixels – at 15 fps or real-time images (25 fps) with a 1280 x 960 resolution (1,3 Mpixel).
The CMOS sensor allows for automatic adjustments to the white balancing and colour saturation level, thus guaranteeing excellent images in standard settings as well as in scenes with high dynamic range and under any lighting condition. The camera independently controls and manages the auto iris of the fitted lenses according to the light condition of the scene selected.
Compression
MPEG4 compression allows optimizing data in a much more efficient way than traditional compression methods, thus eliminating problems related to the available bandwidth and reducing traffic and storage costs. Therefore, it is possible o achieve an extremely high resolution with extremely small bandwidth usage. MPEG4 compression is managed by a dedicated DSP, with proprietary firmware, that can be updated over the network if new algorithms are implanted.
Ease of use
NETTUNO Mega PX can be powered directly through the Ethernet port (Power over Ethernet compliant). An SD card slot allows adding memory for local storage of single frames or short videos. Every Camera has an integrated web server, enabling a live view of images through any TCP/IP connection via Internet Explorer, without the need for additional software.
NETTUNO Mega PX is suitable for stand-alone use or in combination with DVMS of the SPECTIVA and LINEARIS series. The IP transmission and the use of the best video compression algorithms allow achieving flexible and scalable solutions for any type of CCTV installation.
Analytics can be enabled on this camera.
Specification:
| | |
| --- | --- |
| Sensor type | CMOS Progressive scan |
| Sensor array size | 4,73mm (h) x 3.52 mm (v) |
| Sensor Size | Diagonal 5,7 mm (1/3 2'') 2.8 um x 2.8 um |
| No of pixels (effective) | 1600 (H) x 1200 (V) |
| Colour filter array | RGB Bayer Pattern |
| Light sensitivity | 0.8 lux |
| Dynamic range | 71dB |
| Signal to noise ratio | 42.3dB |
| White balance | Auto tracking, manual, and preset |
| Backlighting compensation | Yes |
| AGC/Auto iris | Yes |
| Compression algorithm | MPEG4 Main Profile, MPEG4 ES Raw, H.264, JPEG |
| Ethernet | 10/100 Mbit |
| Supported protocols | TCP/IP (all resolutions) |
| Supported resolutions | UDP (max in D1) – RTP/RTSP (max in D1) |
| Web Server | Yes |
| Processor | Multimedia DSP |
| Audio In | 1 Stereo input |
| Audio Out | 1 Stereo output |
| Power Supply | 12Vdc/PoE |
| Power over Ethernet (PoE) | Yes |
| Power Consumption | <6W |
| Operating temperature | 0-50°C |
| Relative humidity | 8-90% not condensing |
| Weight | 0,5Kg |
| Dimensions | 60W x 140D x 55H mm |