Business Security System Installation and Support.
Cieffe Spectiva Net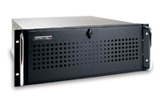 Spectiva Net is an ideal solution for installations where wireless TCP/IP links are more suitable than the conventional cabling, or anywhere a TCP/IP network infrastructure is available.
With SPECTIVA NET it is possible to supervise motion, visualize and record any native IP camera, or any camera encoded by supported encoders with different algorithms: H264, MPEG5 main profile, MEPG4, Wavelet and JPEG. Furthermore, it is possible to record a copy of each camera's images from any SPECTIVA connected to the network.
The multi-sector approach allows for the simultaneous recording of the camera with two or more frequencies (FPS) and resolutions, with or without motion detection, in different physical places.
The new version of Spectiva includes the new functions of ''counting'' (the system ''counts'' the movements between different video area) and of ''crowd detection'' ( the system monitors people or objects sending an alarm at a given threshold). Spectiva Net is available in the 4 or 32 IP video inputs configuration.
OPEN SYSTEMS PROVIDED BY RTP/RTSP PROTOCOLS
Standard real-time transport and streaming protocols RTP/RTSP have been implemented on the latest versions of Spectiva to answer a well-known demand of integration (RTP/RTSP protocols ''open'' systems and perfect capability.) Data transport is also enhanced by a control
protocol (RTCP) to allow monitoring of data delivery to large multicast networks in a scalable way and to provide minimal control and identification functionalities.
HIGH PERFORMANCE AND QUALITY
Recording speed up to 800 images per second at a maximum quality/resolution
True Pentaplex functionality: simultaneous recording, Playing, viewing, archiving and transmitting at all times, regardless of image content or system activity
Multi-sector recording – multiple recording speeds, recording qualities and recording times for each camera
Multiple playbacks of synchronized audio and video from one or more SPECTIVA servers
Support for multi-encoder technology
Support for multi-brand multi-megapixel network camera (32 IP)
TOP SECURITY
Motion detection – integrated dynamic neural networks based on motion detection, configurable for each input
Motion tracking and behaviour analysis with new Deepath1 algorithm
Neural search – intelligent neural network based image search based on movements or objects contained with a camera view
Permancy detection – detect any specific object or movements within any camera view and raise an alarm
HIGH QUALITY
Multiple image compression algorithms – H264, MPEG4 Main profile, Wavelete, Enpacta
Quality and savings – high-quality video transmission on extremely low bandwidths for reduction of storage and connectivity costs
FULL NETWORKING
Powerful networkability – true client-server architecture with full remote control via TCP/IP
Use of any network storage device for greater flexibility and unlimited storage capacity
Integrated web video/audio server for connections via Internet Explorer
Specification
| | |
| --- | --- |
| Video Inputs | 32IP |
| Loopthrough | NO |
| Audio Channels | IP |
| Spot monitors | Yes via TCP/IP |
| Audio Channels (Bi-directional) | 1 |
| Alarm Inputs (optoisolated) | IP |
| Auxiliary outputs (relay) | IP |
| Operator Interface | VGA |
| Internal Storage Archive | Up to 2 TV native |
| Raid5 archive with hot-swap disks | Yes |
| Recording speed (ips) | 800/960@ D1* |
| Resolution | D1 (720×576/720×480)*, 2CIF (720×288/720×240)*, CIF (360×288/360×240)*, QCIF (180×144/180×120)* |
| IPS per camera | From 1 IPS to 25/30 IPS* |
| Recording compression algorithms | H264/MPEG4 Main Profile/Enpacta/Wavelet/JPEG |
| Transmission compression algorithms | H264/MPEG4 Main Profile/Enpacta/Wavelet/JPEG |
| Multi encoding system | Yes |
| Ethernet ports | Gigabit |
| USB port | Yes (2.0) |
| Serial Interface | RS.232 |
| Keyboard/Mouse port | PS/2 |
| Operating System | XP embedded |
| Main Processor | Intel P4 |
| Power Supply | 110/220 VCA 10% |
| Power Consumption | Max 450W |
| Operating Temperature | 5-50º |
| Relative Humidity | 8-90% non condensing |
| Weight | Circa 20Kg |
| Dimensions | 435 x 550 x 177mm |