Business Security System Installation and Support.
Avalon Mk2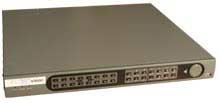 Avalon Mk2 – 360 Vision
The Avalon Mk2 Digital Video Recorder (DVR) is a digital multiplexer / recorder incorporating an internal hard drive. There are three versions of this model, the 4, 9 or 16 camera options. This DVR records up to 50 images per second and supports full Duplex (DVR continues to record even if users are searching, playing back or copying recorded footage). Individual setup of each camera is possible, you can also define whether you want the cameras to record 24/7 or define set periods for recording only.
The DVR can be networked for local and remote Internet access via a Windows computer. Functions such as live view, playback and copying of recorded footage can be carried out either from the DVR or by using the specific CCTV software (if networked). Alarm inputs are available, these can be fed by any sensors on site and either trigger recording to a camera/s if activated, index the recording and thus aid the user in finding specific footage or trigger an external device such as a siren. CCTV footage is stored directly to the internal hard drive using the manufacturer's proprietary encryption format which makes it almost impossible to alter any recorded footage.
Key Features
4, 9 or 16 channel inputs Duplex mode (Simultaneous recording & playback).
Record up to 50 images per second.
Remote access available (software available for Windows XP, Vista or Windows 7).
Archive recorded footage onto a USB stick or directly onto a PC.
Multiple.Alarm inputs & outputs
Identification Help
Front left, the Power/Duplex light is Red (if it is a Green power/duplex light then the DVR is an Avalon Mk1 and not an Mk2).
Grey DVR – Lots of black buttons – numbers range from 1-4, 1-9 or 1-16 depending on how many cameras your DVR supports.
Front right, a circular button with up/down/left/right arrows
Video Tutorials - IRAS CCTV Software (Windows XP Only)
RasPlus CCTV Software (Windows XP, Vista & Windows 7)
RasPlus CCTV software is not compatible on earlier versions of the Avalon DVR. Please contact AlertSystems to confirm if this software will work on your DVR.
Using The Controls On The Front Of The Digital Video Recorder