Business Security System Installation and Support.
NSI Gold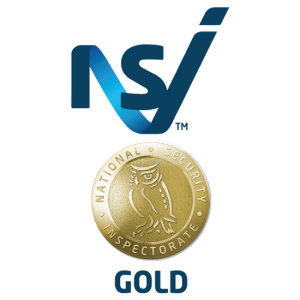 The National Security Inspectorate (NSI) is recognised as the leading certification body for the security protection sector in the UK. For over 40 years, they have helped protect businesses by providing robust, high-quality audits of business security system providers.
Businesses who select an NSI approved company have the reassurance that their chosen contractors will work to the highest industry standards demanded by the Police, Fire and Rescue Services and the insurance industry.
The Gold Standard
The Gold standard holds the greatest value across the industry and is held in high regard by the police, fire and rescue services and insurers. The Gold standard incorporates ISO 9001 Quality Assurance Certification with product and service certification.
What does NSI mean to our Customers?
Staff Vetting
NSI approved companies are required to vetting of staff to British Standard BS7858
Insurance and Financial Standing
NSI check a company's business insurance and ensures they are of good financial standing
Business Premises
NSI audits ensure approved companies operate from premises that are fit for purpose
Resources
NSI audit a company's ability to provide customer support
Industry Best Practice
NSI approval confirms that approved companies comply with industry standards and codes of practice