Business Security System Installation and Support.
360 Vision Technology Analogue Encoder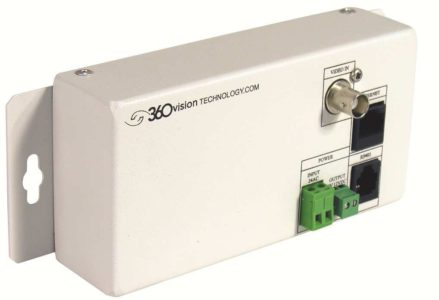 Key features:
Streams: 2 at D1, 4 at CIF
Network IF: 10 base-T / 100 base-TX, RJ45 connector
Compression: MPEG 4
Resolution: D1, HalfD1, CIF, QCIF
Refresh Rate: 0.1 to 30 ips
Bit Rate: 64 to 8 Kbps
Bit Rate Control: Constant, Average, Variable
Audio Compression: G711 speech codec
Protocols: TCP/IP, UDP/IP, HTTP, FTP, SMTP, DHCP, DNS, NTP, RTP, RTSP
Hybrid Solutions… The First Step into IP
As the first step into IP to follow the latest security trend, 360 Vision have released their single channel Analogue Encoder (CODEC). In a hybrid system, different technologies can exist within the same system. During the process of migration from existing analogue systems to the latest digital systems, a hybrid system is required as an interim solution. It enables existing components to be replaced step by step. One such interim step on the way to a purely digital solution would be the replacement of analogue video camera cabling with IP Network capabilities while still retaining the legacy analogue camera equipment. The 360 Vision Codec allows a cost effective, upgrade path into IP based network systems with minimal disruption and cost.
| | |
| --- | --- |
| Model | Channel (analog/IP) |
| 360-VIPCODEC | 1Ch |