Business Security System Installation and Support.
Grandeye Compact IPW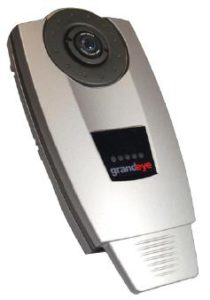 Surface-mounting 360° IP Camera
Key features
5-megapixel image sensor
360° field of view
Four dewarped ePTZ virtual cameras
10x optical-equivalent zoom
Retrospective scene analysis with ePTZ
On-board video analytics
Multi-target tracking
Multi-view video streams
10fps typical
IEEE802.3af class 2 Power-over-Ethernet
MJPEG stream with multiple quality levels
Multilevel password protection
Minimum illumination 0.5 lux
Video streams in multiple resolutions from QQVGA (160×120) to 2144×1944
FTP, HTTP, TCP, UDP, TELNET, ARP, ICMP, SMTP, DHCP, RARP, DNS and NTP support
Convenient surface-mounting enclosure
Suitable for ceiling, wall or floor mounted applications
The Grandeye Compact IPW is a 360° IP camera with a 5-megapixel sensor and no moving parts. The unit is designed for applications where a rapid or temporary surface-mounted installation is a requirement and it fully supports IEEE802.3af Class 2 Power over Ethernet for installation convenience.
The IPW provides total situational awareness over a 360° field of view with the ability to generate a number of video streams at a choice of resolutions, thereby optimising bandwidth and storage utilisation within a system. Grandeye's powerful patented in-camera processing provides 4 de-warped virtual cameras (VCAMs) which offer independent pan, tilt and zoom operation, as well as panoramas and fisheye images.
The IPW is based on award-winning technology and includes in-camera video analytics, which enables motion detection and tracking, with up to four targets being tracked simultaneously using VCAMs.
Grandeye's comprehensive SDK enables digital recording systems manufacturers to integrate directly to the camera and offer retrospective pan, tilt and zoom during playback.
Specification
Model
GE-IP-002
360° ceiling-mounting IP camera with a 5-megapixel sensor and no moving parts
General
Image sensor
5 megapixel (2592×1944)
Angle of view
180° circle (full hemisphere)
Minimum illumination
0.5 lux
Frame rate
10fps typical
Zoom
10x optical equivalent
Video analytics
10 polygonal regions of interest; Motion detect; Motion track; Configurable response; Multi-target simultaneous tracking; Adjustable tracking characteristics
ePTZ
Immediate response
Presets
10 presets
Image pipeline
IMTERA 2™ 3-D visual image pipeline unit; 12-bit
External input
1 contact input
External output
1 momentary or transparent
Security
Multi-level access with configurable passwords; IP address filtering; HTTPS encryption
Users
20 simultaneous users
Event management
Triggered by motion, external input or HTTP event. Result configurable: PTZ tracking; external output; FTP/SMTP upload; HTTP notification
Privacy
10 polygonal, configurable privacy regions
Electrical
Ports
RJ45 for 100Base-TX; 2.1mm DC Input jack; 3-pin 1.5mm Phoenix for external I/O
Network cable type
CAT5 or better for 100Base-TX
Power input
5V DC @ 1.5A max or PoE IEEE802.3af Class 2
Power consumption
5W typical
Mechanical
Camera mount
Camera ceiling-mounts, requiring 2.2"/56mm diameter circular hole.
Weight
0.36kg (0.8lb)
Enclosure
All-metal, adjustable to suit a range of panel thicknesses (up to 1.3"/35mm)
Indicators
4 LEDS on front panel
Environmental
Operating temperature range
0-40°C (32-104°F)
Storage temperature
-10 to +60°C (14 to 140°F)
Ingress protection rating
N/A (IP67-rated model available – IPM)
Video
Video codec
Motion JPEG
Compression level
95 levels of compression adjustment
Video stream resolution
Virtual cameras at: QQVGA; QVGA; VGA; XGA, Panoramas at: 640×208,
Fisheyes at: VGA; 1024×1024; 2144×1944
Image settings
Exposure mode; compression level; brightness; contrast; white balance
Web browser compatibility
Internet Explorer (with ActiveX plug-in, supplied); Mozilla Firefox V2.x
Certifications/Ratings/Patents
Patents
10 patents; 15 pending patents; 20 licensed patents
Approvals
IEEE802.3af Class 2; EMC:(CISPR Class A) FCC; CE; ICES-003;UL60950