Business Security System Installation and Support.
March Networks (Cieffe Nettuno) Edge 4 Encoder/Blade Encoder

Edge 4 Encoder Key features
Standalone form factor
Up to 12 simultaneous video streams (max. 4 H.264, 8 MPEG-4)
Up to 120 fps NTSC / 100 fps PAL @ D1
Power over Ethernet
Alarm inputs and relays
Optional PTZ and audio capabilities
Support for a range of embedded video analytics
Blade Encoder Key features
14-slot, 4U rack-mount enclosure
Support for 4 to 56 analog cameras
Up to 12 simultaneous video streams (max. 4 H.264, 8 MPEG-4) per blade
Up to 30 fps NTSC / 25 fps PAL on each camera
Power over Ethernet (PoE)
Onboard SDHC memory
Each blade supports the full range of VideoSphere analytics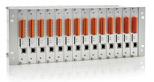 The Edge encoders work in concert with VideoSphere Video Management System (VMS) software running on industry-standard servers to archive all video, audio and data evidence. The architecture enables easy deployment of advanced video analytics and other industry-specific business intelligence applications.
VideoSphere encoders use H.264 or MPEG4 compression to consolidate and convert video from analogue cameras onto a standard IP network. Organizations with large facilities can deploy VideoSphere Edge encoders to leverage cost-effective analogue technology, and to replace lengthy coaxial cable runs with a single network connection, saving an organization as much as 30% in labour and cabling costs. The VideoSphere Edge 4 Blade Encoder supports a fully scalable, centralized solution for IP video networking in high-density analogue camera environments utilizing any existing cable infrastructure.
Specification
Edge 4 Encoder / Blade Encoder
Frame Rate
120 fps (NTSC) / 100 fps (PAL) @ D1
Form Factor
Standalone / Blade
Video Output
BNC Loopthrough / Monitor out
Audio Inputs/Output
4/1
Alarms
4
Relays
4
Compression
1 H.264 stream or 4 simultaneous MPEG-4 streams per channel
Supported Resolutions
CIF, 2CIF, D1
Embedded Analytics
Optional
PTZ Control
1 x RS-485, 1 x RS-422
Ethernet
10/100 Mbit
Internal Storage
SDHC Card Slot
Power over Ethernet (PoE)
Yes
Power Supply
12Vdc terminal/POE
Power Consumption
5W
Mounting Options
Wall mount or rack mount (1U, 2 slots) Blade Rack (4U, 14 slots)
Operating temperature
40º-130ºF / 5º – 55°C
Shipping Weight
1.3 lbs/0.6 Kg (Unit), 0.2lbs/0.1 Kg (Blade), 3.3lbs/1.5Kg (Empty Rack)
Dimensions
14×7.75×0.5 in / 3.5×19.7×12.7 cm (unit) / 7x19x7.1in / 17.7×44.4×18.0 cm (rack)
Standards Compliance
UL 60950; CE EN55022; RoHS 2000/95/EC