Business Security System Installation and Support.
Cieffe Linearis LE – Digital Video Recorder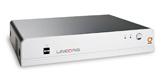 LINEARIS LE is the compact version of the LINEARIS series, capable of handling 6, 12 or 16 unsynchronized cameras with bidirectional audio. The features available in the LC and RM versions are also available in the embedded model, accessible by LAN/WAM/ZDSL/ISDN/ Internet.
The technical specifications, the exceptional network performance, the completely embedded hardware architecture and the superior video quality guaranteed by the new generation of DSPs, make LINEARIS LE the ideal solution for all sites, such as pharmacies, drugstores, retail stores, convenience stores, private homes, and shopping centres, centralized through a network to private security companies.
LINEARIS is CIEFFE'S new Digital Video Management System, a fully automated MPEG4 Main Profile system capable of reacting to external conditions without user intervention. Available in a new configuration with 6,12 or 16 input version, LINEARIS seamlessly combines various recording modes with internal motion detection features, fast search capabilities, external alarm inputs and built-in relay outputs. Its flexible architecture and proprietary MPEG4 Main Profile compression algorithm consistently deliver superior visual quality at exceptionally low file sizes. Recording time is thus dramatically increased while costs are significantly reduced.
Every LINEARIS DVMS has a built-in web server, Vision web. It allows viewing of live or recorded images (with audio) as well as control of PTZ cameras over any TCP/IP connection within Internet Explorer web browser – no special software is required. Video quality is handled dynamically by the MPEG4 Adaptive technology, which allows exceptional results even over an extremely limited and fluctuating bandwidth.
LINEARIS is a mid-level solution, ideal for multi-site installations where high performance and reliability are required, together with exceptional video quality and high image rates.
HIGH PERFORMANCE AND QUALITY
No performance degradation with unsynchronized cameras
Recording speed up to 200/240* images per second at maximum quality
True Pentaplex Functionality – simultaneous recording, playing, viewing, archiving and transmitting at all times, of image content or system activity
Compression algorithms MPEG4 Main Profile and H.264
Hardware compression for guaranteed performance
PTZ Control – fully integrated multi-vendor PTZ support with minimum latency
REAL-TIME MOTION DETECTION
Real-Time Motion Detection – Integrated Dynamic Leading Edge motion detection, configurable for each input
Motion-based Search Capabilities
FULL NETWORKING
Powerful networkability – true client-server architecture with full remote control via TCP/IP
Integrated web video/audio server for connections via Internet Explorer
High-quality video transmission on extremely low bandwidth
RTSP: Network protocol support for video streaming
EASY TO USE
A point-and-click graphic user interface for simple, immediate and precise control
Visual Search – fast and easy access to all recorded material, simple and effective
Flexible user management – control access to cameras and functions by a user
TOP SECURITY
Embedded hardware architecture
Embedded operating system
Integrated firewall for direct Internet connection
COMPATIBLE SOFTWARE
Remote Control – Full TCP/IP Client
Remote View – simple TCP/IP Client
VisionWeb – Internet Explorer TCP/IP Client
Site Manager – Full TCP/IP Multi-server Client/Site Manager
Cieffe Developer Kit API
Cieffe Vision Pocket
HARDWARE OPTIONS
External USB CD/DVD writer
12 VDC power supply
USB RS422/RS485 interface for dome control
USB extension board
Cieffe PTZ control keyboard
*PAL / NTSC
Specification:
| | |
| --- | --- |
| Video Inputs | 16 |
| Loopthrough | NO |
| Audio Channels | 1 Mono |
| Spot monitors | Yes |
| Audio Channels (Bi-directional) | 1 |
| Alarm Inputs (optoisolated) | 16 |
| Auxiliary outputs (relay) | 16 (relay) |
| Operator Interface | VGA |
| Internal Storage Archive | Up to 500GB |
| Recording speed (ips) | 100/120 IPS @ CIF |
| Resolution | D1, 2CIF, CIF, QCIF |
| IPS per camera | From 1 IPS to 25/30 IPS* |
| Recording compression algorithms | MPEG4 Main Profile |
| Transmission compression algorithms | MPEG4 Main Profile/MPEG 4 Adaptive |
| USB port | Yes (v2.0) |
| Serial Interface | RS232 |
| Keyboard/Mouse port | PS/2 |
| Operating System | XP embedded |
| Main Processor | Via Luke Fanless |
| Power Supply | 12 VDC + 5% |
| Power Consumption | Max 450W |
| Operating Temperature | 5-50º |
| Relative Humidity | 8-90% non condensing |
| Weight | 7,4 KG |
| Dimensions | 430x 410 x 65 mm |