Business Security System Installation and Support.
Enter your details to request a FREE site security survey.
Hanwha PTZ Dome Cameras
The Wisenet Lite PTZ range from Hanwha features 32x optical zoom with IR capabilities to capture high-quality HD images whenever. The rotation and tilt control features allow you to monitor your premises in greater detail and enhance the monitoring of the systems in place. For more information on how a Hanwha PTZ Dome Camera can benefit your business, fill in our contact form and let one of our experts help you.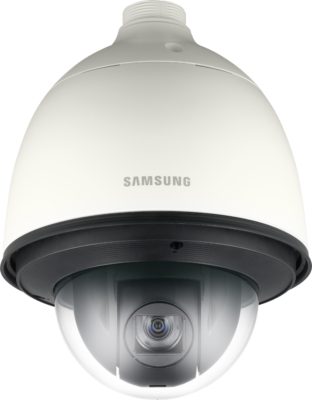 Camera
Key Features
2 Megapixel HD 32x Network PTZ Dome Camera

Max. 2M (1920 x 1080) resolution
16 : 9 Full HD (1080p) resolution support
4.44 ~ 142.6mm (32x) optical zoom, 16x digital zoom
0.2Lux@F1.6 (Colour), 0.01Lux@F1.6 (B/W)
H.264, MJPEG dual codec, Multiple streaming
Day & Night (ICR), WDR (120dB)
Auto tracking, Intelligent video analytics
PoE+, SD/SDHC/SDXC memory slot, Bi-directional audio support
IP66 / IK10

2 Megapixel HD 32x Network IR PTZ Dome Camera

Max. 2M (1920 x 1080) resolution
16 : 9 Full HD (1080p) resolution support
4.4 ~ 140.8mm (32x) IR corrected optical zoom, 16x digital zoom
H.264, MJPEG dual codec, Multiple streaming
Day & Night (ICR), WDR (120dB)
Auto tracking, Intelligent video analytics
SD/SDHC/SDXC memory slot, Bi-directional audio support
IP66, IK10, IR LED (2)

2 Megapixel Full HD 32x Network PTZ Dome Camera

Max. 2M (1920 x 1080) resolution
16 : 9 Full HD (1080p) resolution support
4.44 ~ 142.6mm (32x) optical zoom, 16x digital zoom
0.2Lux@F1.6 (Colour), 0.01Lux@F1.6 (B/W)
H.264, MJPEG dual codec, Multiple streaming
Day & Night (ICR), WDR (120dB)
Auto tracking, Intelligent video analytics
PoE+, SD/SDHC/SDXC memory slot, Bi-directional audio support
IK10 (SNP-6320 + SHP-3701H)