Business Security System Installation and Support.
Cieffe Linearis Net – Digital Video Management System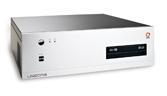 The Linearis Net is the series' network version, capable of handling four to sixteen IP video inputs with both the most common and performing compression algorithms. LINEARIS NET is a Digital Video Management System with an excellent cost/performance ratio. Technical specifications assure outstanding networking performances: combined with CIEFFE NETTUNO encoders or IP cameras, LINEARIS NET allows to easily create multi-site installations to turn an old analogue system into new, scalable IP architectures. LINEARIS NET is gifted with up to 500GB storage capacity.
With LINEARIS it is possible to supervise motion, visualize and record any CIEFFE device or any camera encoded by NETTUNO encoders with different algorithms: MPEG4 Main profile and JPEG.
Open Systems Provided by RTP/RTSP Protocols
Standard real-time transport and streaming protocols RTP/RTSP have been implemented on the latest versions of LINEARIS to answer a well-known demand of integration (RTP/RTSP protocols provide ''open'' systems and perfect compatibility). Data transport is also enhanced by a control protocol (RTCP) to allow monitoring of data delivery to large multicast networks in a scalable way and to provide minimal control and identification functionalities. CIEFFE streaming technology has been tested with many different clients and proved to be perfectly compatible with the most known video players capable of displaying streaming media, such as VideoLan, Mplayer or Apple QuickTime.
High Performance and Quality
No performance degradation with unsynchronized cameras
Recording speed up to 400/480 images per second at maximum quality
True Pentaplex Functionality – simultaneous recording, playing, viewing, archiving and transmitting at all times, regardless of image content or system activity
Compression algorithms MPEG4 Main Profile and H.264
PTZ Control – fully integrated multi-vendor PTZ support with minimum latency
Real-Time Motion Detection
Support for real-time motion detection
FULL NETWORKING
Powerful networkability – true client-server architecture with full remote control via TCP/IP
Integrated web video/audio server for connections via Internet Explorer
High quality video transmission on extremely low bandwidth
Easy to Use
Point-and-click graphic user interface for simple, immediate and precise control
Visual Search – fast and easy access to all recorded material, simple and effective
Flexible user management – control access to cameras and functions by user
Top Security
Embedded hardware architecture
Embedded operating system
integrated firewall for direct Internet connection
Compatible Software
Remote Control – Full TCP/IP Client
Remote View – simple TCP/IP Client
VisionWeb – Internet Explorer TCP/IP Client
Site Manager – Full TCP/IP Multi-server Client/Site Manager
Cieffe Developer Kit API
Hardware Options
External USB CD/DVD writer
USB I/O Extension Board
Cieffe Keyboard
USB 2.0 support
Auto-configuration wizard
Full screen live
Privacy patch
Full screen playback
Pre-motion recording
Virtual zoom
Image touch-up
Image print
Image/Video export
Image/Video export authentication
Firmware upgrade via network
Compatible with existing networks
Specification
| | |
| --- | --- |
| Video Inputs | 16 IP |
| Loopthrough | NO |
| Audio Channels | IP |
| Spot monitors | Optional (via network) |
| Audio Channels (Bi-directional) | 1 |
| Alarm Inputs (optoisolated) | 16 Optional (extension board) |
| Auxiliary outputs (relay) | 16 Optional (extension board) |
| Operator Interface | IP |
| Internal Storage Archive | Up to 500GB |
| Raid5 archive with hot swap disks | NO |
| Recording speed (ips) | Device Dependent |
| Resolution | Device Dependent |
| IPS per camera | From 1 IPS to 25/30 IPS* |
| Recording compression algorithms | H.264/MPEG4 Main Profile/JPEG |
| Transmission compression algorithms | H.264/MPEG4 Main Profile/JPEG |
| Ethernet ports | Gigabit |
| USB port | Yes |
| Serial Interface | Yes |
| Keyboard/Mouse port | PS/2 |
| Operating System | XP embedded |
| Main Processor | Pentium 4 |
| Power Supply | 110/220 VCA 10% |
| Power Consumption | Max 450W |
| Operating Temperature | 5-50º |
| Relative Humidity | 8-90% non condensing |
| Weight | 12Kg |
| Dimensions | 430x 430 x 130 mm |