Business Security System Installation and Support.
March Networks (Cieffe Nettuno) Codec Senses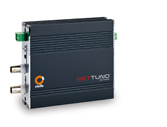 NETTUNO SENSES is the most advanced Network Codec of the NETTUNO series. This state of the art surveillance technology, based on the new 720Mhz DSP, capable of managing 4 video streams at the same time, can now manage motion tracking and behaviour analysis thanks to CIEFFE algorithm Deepath2.
Deepath2 can be seen as a group of independently working agents, collaborating and exchanging results concerning the video streams. The agent's results are inserted in a multidimensional event database. Events are then correlated by time, space and other parameters. Temporal-spatial correlations among events can result in ''smarter'' alarms.
Designed to be completely solid state (no fans or moving parts), NETTUNO is extremely compact in size (90W x 120D x 35Hmm). Its power consumption (<5w) is minimum, making it the perfect choice for any environment.
NETTUNO SENSES can connect a single composite video camera (and single audio channel) to the network transmit D1 resolution (D1 @ 720×576 pixels/720×480 pixels) video and stereo audio in real time using MPEG4 Main Profile algorithm. Moreover, it can be seamlessly integrated as a network camera in any SPECTIVA (v 2.00 or higher). Output can be viewed live, analyzed, and recorded as if it were produced by a conventional camera connected to Spectiva via coax. NETTUNO can use SD memory to provide video data buffering and eliminate video recording loss due to the network; disruption or failure.
Key features
Completely embedded non-PC architecture
DSP based hardware – flexible and future-proof architecture
Power over Ethernet capable
Advanced motion detection and tracking intelligence
An exceptionally high quality of video and audio using MPEG4 compression
Seamless and transparent integration into SPECTIVA DVMS networks – all SPECTIVA features extend to network cameras connected via SPECTIVA Network Interface
Seamless and transparent integration into Cieffe Site Manager as networked connected analogue spot video monitor output (with audio)
Powerful Networkability – true client-server architecture with full remote control via TCP/IP and unlimited scalability
| | |
| --- | --- |
| Motion Alarm | It's possible to set the type of movement to detect, based on the speed, direction, shape and size of the object. Different settings are possible for multi-zone handling. The system also detects slow movements. |
| Overtake Alarm | For detecting a vehicle overtaking another in a zone where this manoeuvre is not allowed or where the visibility is limited. |
| Bottlenecks Alarm | An event is thrown when the system detects a queue caused by a sudden break or a car |
| Travelling the wrong way Alarm | An alarm can be triggered when a vehicle is moving in the wrong direction (e.g. against the traffic flow,) endangering others. |
| Panic Alarm | Serious or dangerous situations can be marked by detecting abnormal behaviour of people when they are panicking. |
| Excessive Speed Alarm | An alarm can be given by the system when the speed of a vehicle exceeds a given limit. It's possible to set up different zones with specific speed limits. |
| Permanence of objects and persons | An object can be detected when it stands still for a given time in a place that is being monitored for security reasons (i.e luggage in an airport, a vehicle parked in a critical zone, or an object that has been removed from its usual placement.) Alarms can be given based on the shape and size of the object. |
| Camera occlusion alarm | An alarm can be triggered when a camera is darkened, or occluded by an object that obscures or conceal landscape details. |
| Tracking alarm | The system detects the path of a moving object, vehicle or person, based on shape, size and speed. The system raises an alarm for specific paths. |
| Person Counter | It is possible to keep track of the number of people crossing a virtual line, for statistical analysis or for gathering relevant information. It is also possible to set an alarm that goes off when a specific number of people (or people per hour) cross the line. |
COMPATIBLE SOFTWARE
Remote Control – Full TCP/IP Client
Remote View – Simple TCP/IP Client Movie Viewer
Vision Web – Internet Explorer TCP/IP Client
Vision Pocket – Pocket PC Client
Site Manager – Full TCP/IP Multi Server Client
CIEFFE Developer Kit – API
Specification
| | |
| --- | --- |
| Video Input | 1 |
| Loop through | Yes |
| Video Output | N/A |
| Audio Input | 1 Stereo |
| Audio Output | 1 Stereo |
| Simultaneous Encoders | 1 |
| Compression algorithm | MPEG4 Main Profile, MPEG4 ES Raw, MPEG4 Adaptive |
| Supported Resolutions | 720 x 576/720 x 480 (D1), 720 x 288/720 x 240 (2CIF), 360 x 288/360 x 240 (CIF), 180 x 144/180 x 120 (QCIF) |
| Web Server | Yes |
| Processor | DSP 720Mhz |
| Dome Control | RS.485 |
| Ethernet | 10/100 Mbit |
| Power over Ethernet (PoE) | Yes |
| SD Slot | Yes |
| Power Supply | 12Vdc |
| Power Consumption | 4W |
| Operating temperature | 5-55°C |
| Relative humidity | 8-90%, non condensing |
| Weight | 0,5 Kg |
| Dimensions | 90W x 80D x 35H mm |