Business Security System Installation and Support.
FLIR VSR-6 Thermal Imaging Camera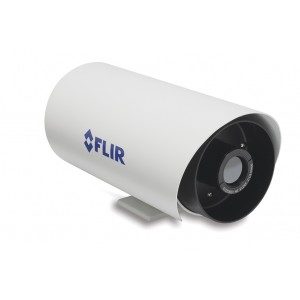 The VSR-6 is an extremely affordable thermal imager. It provides crisp, clear thermal images in total darkness, light fog or smoke. It features the same thermal imaging technology found in many of FLIR's most sophisticated security and surveillance systems, but it is packaged for users who have short range security and surveillance as their primary application. It includes FLIR's advanced image processing techniques which deliver excellent contrast regardless of scene dynamics. Unlike other night vision systems that require low amounts of light to generate an image, the VSR-6 needs to light at all.
The VSR-6 provides crisp, clear thermal images with a 160×120 pixels. Advanced internal camera software delivers a crisp image without the need for user adjustments. It provides good quality thermal imaging in any night or daytime environmental conditions. The VSR-6 is an excellent thermal imaging camera for those users that have only short-range requirements and want to detect man-sized or bigger targets.
The VSR-6 is equipped with a 6.3mm wide angle lens. It gives you an extremely wide field of view (52º) so that you can cover a large area and keep excellent situational awareness.
The VSR-6 is an extremely rugged system. Its vital core is well protected, meeting Mil-Std-810E and IP66 requirements, against humidity and water. The built-in heater enables a clear lens and perfect infra-red images to be displayed on the monitor even in extremely cold conditions.
Key Features
Proven long-wave thermal security camera technology
50-degree field-of-view
Outstanding image quality
Easy to integrate
Standard video
FLIR VSR-6 Thermal Imaging Camera
Benefits
6.3mm lens for first-rate wide area viewing
Digital Detail Enhancement for optimal image quality
Simple installation using an industry-standard environmental enclosure
NTSC or PAL composite video-out for painless network integration
Makes pictures from heat, not light; night and day, in good weather and bad
Specification
Imaging Performance
Detector Type
Focal Plane Array (FPA), uncooled microbolometer 320×240 pixels
Spectral Range
7.5 to 13um
Field of View
SR-19: 36º (H) x 27º (V) with 19mm lens
SR-35:20º (H) x 15º (V) with 35mm lens
SR-50:14º (H) x 10º (V) with 50mm lens
SR-100:7º (H) x 5º (V) with 100mm lens
Lenses are not interchangeable and must be specified at time if purchase
Spatial Resolution (IFOV)
SR-19:2.0 mrad
SR-35:1.1 mrad
SR-50: 0.8 mrad
SR-100:0.4 mrad
Thermal Sensitivity
85mK at 25ºc
Image Frequency*
7.5 Hz NTSC or 8.3 Hz PAL *
Focus
SR-19:Fixed
SR-35:Fixed
SR-50:Fixed
SR-100: Manual
Electronic zoom
2x
Image processing
Automatic Gain Control (AGC), Digital Detail Enhancement (DDE)
System Features
Remote Control
Focus:SR-100 only
Automatic Heater
Yes
Image Presentation
Video Output
NTSC or PAL composite video
Connector Types
BNC (1) provides video output
Power
Requirements
14-32V DC or 24 V AC +/- 10%
Consumption
SR-19:6W nominal, 24W startup peak, at 24V DC, at 23ºC
SR-35:6W nominal, 24W startup peak, at 24V DC, at 23ºC
SR-50:6W nominal, 24W startup peak, at 24V DC, at 23ºC
SR-100:8W nominal, 36W startup peak, at 24V DC, at 23ºC
Environmental Specifications
Operating Temperature Range
-32ºC to 55ºC
Storage Temperature Range
-50ºC to 85ºC
Humidity
Rain
Sand/Dust
Mil-Std-810E
Encapsulation
IP66
Shock
Mil-Std-810E
Vibration
Mil-Std-810E
Physical Characteristics
Camera Weight
SR-19:2.7 Kg
SR-35:2.7 Kg
SR-50:2.7 Kg
SR-100:3.6 Kg
Camera Size
SR-19:279cm x 132cm x 142cm
SR-35:279cm x 132cm x 142cm
SR-50:279cm x 132cm x 142cm
SR-100:381cm x 132mm x 142mm
Shipping Weight (camera+packaging)
6.9 Kg
Shipping size (camera+packaging) (LxWxH)
36cm x 51cm x 34cm
Standard Package
Thermal Imager, Operator manual
*30 Hz NTSC or 25 Hz PAL available. Subject to approval of the US Department of Commerce for use outside the USA