Business Security System Installation and Support.
March Networks (Cieffe Nettuno) Mega Dome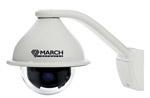 Key features
Combines megapixel PTZ capability with MPEG-4 compression
Also incorporates H.264 compression
1600×1200 (2 Megapixel) resolution @ 15 fps; up to 30 fps @ D1
16x optical zoom
200 presets, 4 guard tours
Wall, corner wall, pole, ceiling (surface) and swan neck mounts
High Definition & PTZ 360° Fast Movement
Mega Dome's main innovation lies in the fact that it makes possible to use 1600*1200 resolution combined with PTZ movement: autofocus and backlight management of images coming from a moving camera, mechanical and electrical issues, all those harsh difficulties to face when merging megapixel resolution video with fast and accurate PTZ movement have been settled.
High Definition & MPEG4 Compression
March Networks MegaDome is also the first-megapixel PTZ dome to apply MPEG4 compression algorithm on high-resolution video (it has a 1600*1200 pixels resolution – 2 megapixels). The outcome is that, though the dome is still delivering high-quality video at a very fluid frame rate (15 fps at maximum quality and resolution), MPEG4 compression allows terrific savings in bandwidth and storage requirements: the compression of high-resolution video is 10 to 20 times more effective (depending on the monitoring scale) that standard megapixel compression technologies on the market, all JPEG based.
High Definition and Real World IP Installations
With this megapixel PTZ dome you can take advantage of both high-resolution video (image quality and detail, vital help in post-event reconstruction thanks to digital zoom) enhanced by 16x optical zoom and fast and accurate PTZ movement.
MPEG4 compression on high-resolution video allows implementing March Networks Mega Dome into real-world IP installations when there usually are many cameras connected to storage servers or to monitors over IP. In a similar situation, the overall bandwidth and storage required by JPEG compression make the desired installation not feasible or extremely expensive.
Customers needing to perform high-quality video surveillance may not always have the luxury of a multi-gigabit connection to the network so MPEG4 Main Profile algorithm provides huge savings. The March Networks Mega Dome allows building high-resolution video surveillance IP systems in a very cost-effective way. Thanks to those systems, this video security environment will provide performance and video surveillance accuracy unmatched up to this moment.
Specification
| | |
| --- | --- |
| Sensor type | 1/3" CMOS Progressive Scan |
| Lens size | 4.5 – 72 mm |
| Zoom – Optical + Digital | 16x + unlimited |
| Light Sensitivity – Colour | 0.8 lux |
| Slow Shutter Mode Sensitivity (Day/Night auto) | < 0.1 lux |
| Signal to noise ratio | 42.3dB |
| White balance | Auto; Manual |
| Backlighting compensation | Yes |
| AGC/Auto iris | Yes |
| Privacy Masking | Yes |
| Compression | MPEG-4 / H.264 (D1) |
| Max. resolution PAL/ NTSC | 1600×1200 |
| Max. frame rate | 15 fps @ 1600×1200; 30 fps @ D1 |
| Presets | 200 |
| Tours | 4 |
| Pan Tilt Rotation | Up to 400 /sec on presets |
| Tilt coverage | 90° |
| Network Interface | Ethernet 10/100 Mbps |
| Input Voltage | 24 VAC, 36 VA |
| Power Consumption | 36 W |
| Power Supply Included | 100-240 VAC, 1.5Amp 50/60 Hz, waterproof enclosure |
| Operating temperature | 14 to 122ºF / -10 to 50ºC |
| Relative humidity | 8-90% not condensing |
| Weight | 5.5 lbs / 2.5 kg |
| Dimensions | 10.55 x 10.24 in. / 26.8 x 26.0 cm |
| Environment | Indoor / outdoor (IP65) |
| Mounting options | Wall, corner wall, pole, ceiling (surface), swan neck |
| Certification | CE – EMC Directive 2004/108/EC, Standards EN55022, EN55024 FCC Part 15 Subpart B, ICES-003 |