Business Security System Installation and Support.
Grandeye Halocam R CCTV surveillance camera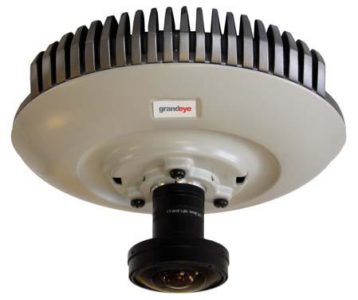 3 Megapixel 360° Analogue Camera.
Key features
3 megapixel image sensor
360° field of view
Four dewarped ePTZ virtual cameras
7x optical-equivalent zoom
Retrospective scene analysis with ePTZ*
On-board video analytics
Multi-target tracking
2 independent analogue outputs
Multi-view screen formats
12fps live view
Supports Pelco-D/P and other standard control protocols
Minimum illumination 1 lux
Supports PAL and NTSC
Designed for discreet mounting behind false ceilings
Suitable for ceiling and wall mounted applications
*When used with Halocorder
The Grandeye Halocam-R is a 360° analogue camera with a 3-megapixel sensor and no moving parts. The unit is designed for applications where discreet installation behind false ceilings is a requirement with easy integration into standard CCTV systems.
The Halocam-R provides total situational awareness over a 360° field of view with the ability to generate a number of views on two standard analogue outputs. Grandeye's powerful patented in-camera processing provides 4 de-warped virtual cameras (VCAMs) which offer independent pan, tilt and zoom operation, as well as panoramas and fisheye images.
The Halocam-R is based on award-winning technology and includes in-camera video analytics, which enables motion detection and tracking, with up to four targets being tracked simultaneously using VCAMs.
When used in conjunction with the Halocorder, the camera offers retrospective pan, tilt and zoom operation during playback.
Specification
Model
GE-IP-001
360° concealed-mounting analogue camera
General
Image sensor
3 megapixel (2048×1536)
Sensor responsivity
1.0V/lux-sec (550nm)
Frame rate
~12fps
Zoom
7x optical equivalent
Motion Detection/Tracking
Variable sensitivity, 75 regions of interest, 4-target simultaneous tracking
Museum Mode
Immediate response, controllable via industry-standard RS485 protocols including Pelco-P/D, protocol autosensing
ePTZ
Immediate response
Presets
128
Tours
4 preset tours (64 steps each), 4 learn tours (3 minutes each)
Virtual cameras
4 fully independent full resolution including thumbnail
Image pipeline
IMTERA™ 3-D visual image pipeline
External input
4 contact input N/O or N/C
External output
1 momentary or transparent
Security
Password-protected menu system, encrypted digital video
Event management
Triggered by motion, external input or HTTP event. Result configurable: PTZ tracking; external output; Halocorder recording
Sectors
75
Privacy
75, pixel-perfect
Electrical
Video connection
2 x analogue 75 Ohm BNC coax
External I/O
Spring-loaded terminals. Output: 30V (max) ½ Amp (max) 10W (max)
Power input
2-pin Phoenix-style connector. 11.5-16VDC; cable 18-14 AWG
Power consumption
20W
Mechanical
Camera mount
Camera mounts behind ceiling panel, requiring 3.94"/100mm diameter hole. Optional surface/wall, mounting bracket available
Weight
1.5kg (3.3lb)
Enclosure
All-metal, suitable for mounting behind false ceiling panels
Environmental
Operating temperature range
0-40°C (32-104°F)
Storage temperature
-10 to +60°C (14 to 140°F)
Video
Video system
NTSC & PAL
Certifications/Ratings/Patents
Patents
10 patents; 15 pending patents; 20 licensed patents
Approvals
EMC:(CISPR Class A) FCC; CE; UL2044 (2043 with conduit kit)