Business Security System Installation and Support.
Cieffe Spectiva RT & RTL – Digital Audio/Video Recording Management System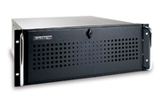 SPECTIVA -the most advanced digital audio/video recording and management system (DVMS) – 32 Universal video inputs (analogue and IP).
Key features:
Loopthrough
Privacy patch
USB 2.0 support
Audio detection
Auto-configuration wizard
Virtual zoom
VGA video interface
Image touch-up
Full screen live
Image print
Full-screen playback
Image/video export
H.264 compression
Image/Video export authentication
Bi-directional audio channels
Network camera support
Alarm Inputs
Embedded operating system
Relay Output
Firmware upgrade via network
Pre-Alarm encoding
Compatible with existing networks
Pre-motion recording
Camera darkening detection
Camera movement detection
SPECTIVA is the most advanced digital audio/video recording and management system (DVMS) with 32 universal video inputs (analogue and IP). This powerful DVMS is the result of CIEFFE's ongoing research for developing the highest quality surveillance technologies.
The new Real-time 2.06 version features a multi-encoder technology that can use multiple compression modes in real time for each channel with H264 and MPEG4 Main Profile algorithms. Spectiva is the first DVMS in the world to offer broadcast quality video up to 20 times better than other systems that use Wavelet, JPEG, differential and MPEG2 algorithms. It can also generate multiple H264 and MPEG4 Main Profile streams for each camera, allowing for flexible and optimizes management of video streams to the connected clients: each stream can be sent to several platforms for different purposes (for instance, 2Mbit in D1 for real-time recording, 256Kbit CIF for ADSL connection, 10 Kbit QCIF for transmission to GPRS networks.
The unparalleled performance levels of SPECTIVA 2.06 make it an excellent choice for banks, casinos, airports, mines, government organizations, industrial facilities, military installations, schools and other installations requiring premium levels of digital CCTV performance and flexibility. Its client-server architecture uses both conventional and networked CCTV cameras and audio sources: it can display live and recorded video and can simultaneously broadcast and store audio and video (in real time for the most advanced models.) Finally, it can be"remotely updated. Videos are stored at 720×576/PAL and 720×480 NTSC pixels with lip-synchronized stereo audio. It offers a variety of tools to analyze and accurately interpret the data in real time for maximum security. Inputs and (integrated) external alarm outputs, resolution, compression level and all other recording parameters can be adjusted on a camera by camera basis.
Maximum Security
Once recorded, the data is encrypted for security reasons. SPECTIVAS embedded architecture and integrated firewall make it invulnerable to virus attacks. The architecture is fault tolerant in order to guarantee the highest level of security.
The internal storage system features RAID5 architecture to prevent the loss of archived data in the event of a hard drive breakdown. After the introduction of a Smart Card based access control procedure, the system has become even safer.
High Performance and Quality
Recording speed up to 800 images per second at a maximum quality/resolution
True Pentaplex functionality: simultaneous recording, Playing, viewing, archiving and transmitting at all times, regardless of image content or system activity
Multi-sector recording – multiple recording speeds, recording qualities and recording times for each camera
Multiple playbacks of synchronized audio and video from one or more SPECTIVA servers
Top Security
Motion detection – integrated dynamic neural networks based on motion detection, configurable for each input
Motion tracking and behaviour analysis with new Deepath1 algorithm
Neural search – intelligent neural network based image search based on movements or objects contained with a camera view
Permancy detection – detect any specific object or movements within any camera view and raise an alarm
High Quality
Multiple image compression algorithms – H264, MPEG4 Main profile, Wavelete, Enpacta
Quality and savings – high-quality video transmission on extremely low bandwidths for reduction of storage and connectivity costs
Full Networking
Powerful networkability – true client-server architecture with full remote control via TCP/IP
Use of any network storage device for greater flexibility and unlimited storage capacity
Integrated web video/audio server for connections via Internet Explorer
4/8/32
Spectiva 4, 8, 32 RT
16
Spectiva 15 RTLC, RTLR
Video Inputs
4,8,16 analog – 32 IP
16
Loopthrough
Yes (for analog inputs)
Si
Audio Channels
8 mono, 16 mono, 32 mono
8 mono, 4 stereo
Spot monitors
Yes (via TCP/IP)
Yes with HOSPOT and via TCP/IP
Audio Channels (Bi-directional)
1
1
Alarm Inputs (optoisolated)
4, 8, 16
16
Auxiliary outputs (relay)
4, 8, 16
16
Operator Interface
VGA
VGA
Internal Storage Archive
Up to 2 TV native
Up to 2 TV native
Raid5 archive with hot-swap disks
Yes
Yes (RTLR)
Recording speed (ips)
100/120 @ D1*,200/240 @ D1,800/960 @ D1, 200/240 IPS* @ 2CIF, 100/120 IPS* @ D1
400/480 IPS* @ CIF, 100/120 IPS* @ D1
Resolution
D1 (720×576/720×480)*, 2CIF(720×288/720×240)*, CIF (360×288/360×240)*, QCIF (180×144/180×120)*
D1 (720×576/720×480)*, 2CIF (720×288/720×240)*, CIF (360×288/360×240)*, QCIF (180×144/180×120)*
IPS per camera
From 1 IPS to 25/30 IPS*
From 1 IPS to 25/30 IPS*
Recording compression algorithms
H264/MPEG4 Main Profile/Enpacta/Wavelet
H264/MPEG4 Main Profile/Enpacta/Wavelet
Transmission compression algorithms
H264/MPEG4 Main Profile/Enpacta/Wavelet
H264/MPEG4 Main Profile/Enpacta/Wavelet
Multi encoding system
Yes
Yes
Ethernet ports
Gigabit
Gigabit
USB port
Yes (2.0)
Yes (2.0)
Serial Interface
RS.232
RS.232
Keyboard/Mouse port
PS/2
PS/2
Operating System
XP Embedded
XP Embedded
Main Processor
Intel P4
Intel P4
Power Supply
110/220 VCA 10%
110/220 VCA 10%
Power Consumption
450 W
450 W
Operating Temperature
5-50°C
5-50°C
Relative Humidity
8-90% condensing
8-90% condensing
Weight
Circa 20Kg
Circa 20Kg
Dimensions
435 x 550 x 177mm
430x 350 x 90 mm, 435 x 550 x 177 mm