Business Security System Installation and Support.
Avalon Open Vision IP DVR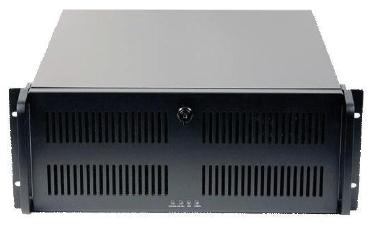 Features
| | |
| --- | --- |
| Up to 400 images/second | The Avalon OpenVision IP systems records at speeds of up to 400 (32/16 channel), 200 (16/8 channel) and 100 (4 channel) images per second (IPS) allocated across the DVR's channels. Event activations will automatically switch the relevant video channel into Real Time, 25 IPS recording (CIF resolution) on both analogue and IP inputs (IP requires CODEC uprate stream). |
| Dynamic MPEG4 hardware compression | The fully automated Main Profile MPEG4 adaptive technology compression algorithm reacts to external conditions or fluctuating bandwidth restrictions to deliver optimum image quality and resolution at all times. |
| Small image file size/extended recording times | The MPEG4 compression generates image file sizes of 4Kb for CIF quality and 15Kb for D1 quality video. Small file sizes extend recording times and increase image file transmission speeds (video file size will vary in size). |
| High-quality recording modes | The MPEG4 compression hardware ensures high-quality images from CIF to 4CIF (D1) resolution. |
| Motion detection | The dynamic, leading-edge motion detection is configurable on each channel. |
| Visual search | Easy to use, fast search options give access to all recorded video. |
| Remote viewing and management software | Flexible software options, Remote Manager, Web Browser, NxMS and IP Finder are available with options to view live or recorded images with audio, access Avalon OpenVision IP functionality and control PTZ dome cameras over a TCP/IP connection. |
| User management | Control of access to cameras, functions and bandwidth is allocated per user. |
| DSP video and audio recording | The onboard DSP compression chips allow for the storage of more than one month of high-quality video and audio recordings reducing HDD costs. The embedded hardware architecture, operating system and firewall ensure high-security levels within the DVR. |
| USB 2.0 port | A USB port enables an image to download and highly compatible archiving. |
Advanced Features
PC Access and Remote Control
The Avalon OpenVision IP can be accessed via an inbuilt network connection and controlled using the following software options:
Remote Manager for live viewing, playback and PTZ camera control of an Avalon OpenVision unit. NxMS, for full control of all of the functionality of multiple Avalon OpenVision IP DVRMS's.
Web Browser, for the remote access and control of Avalon Vision IP DVRMS's from a laptop or PC running the Microsoft Windows platform.
SPECIFICATION
Avalon OpenVision hybrid
Avalon OpenVision NVR
VisionScan ii Options & Features
8ch IP Maximum
Video Inputs
8,16,32ch
8,16ch
16ch
Signal format
PAL or NTSC selectable
IP via Network/Codec
IP via Network/Codec
Loopthrough
Y
N/A
N/A
Audio channel
4
4
4
Spot monitor output
1
Via PC
Via PC
Audio channels – bi-directional
1
1
1
Alarm inputs – optoisolated
16
16 via IP
16 via IP
Aux outputs – open collector
8
Via IP
Via IP
Operator interface
VGA
VGA
VGA
Internal storage
up to 3Tb
up to 3Tb
up to 3Tb
Raid5 archive – hot swap
Y
Y
Y
Recording speed
400ips CIF, 200 2CIF, 100 D1
400ips CIF,200 CIF,100 D1 (16ch)
400 ips CIF/2CIF/D1
Resolution PAL / NTSC
360×288/360×240 CIF
720×576/720×480 D1
360×288/360×240 CIF
720×576/720×480 D1
720×576/720×480 D1
360×288/360×240 CIF
720×288 / 720×240 2CIF
Recording speed per camera
From 1 to 25/30 IPS
From 1 to 25/30 IPS
From 1 to 25/30 IPS
Recording compression
MPEG4 main profile
MPEG4 main profile
MPEG4 main profile
Trans. Compression
MPEG4 main profile-adaptive
MPEG4 main profile-adaptive
MPEG4 main profile-adaptive
Ethernet ports
10/100Mbit
10/100Mbit
10/100Mbit
USB 2.0 port
Y
Y
Y
Serial interface
RS232
Keyboard / mouse port
USB
USB
USB
Operating system
XP embedded
XP embedded
XP embedded
Processor speed
3Ghz
3Ghz
3Ghz
Unit/shipping weight
20.0 Kg
Operating temp
5 ~ 50ºC
Operating humidity
8% to 90% non condensing
Power supply
110/220 VCA+/- 10%
Power consumption
450W
Approval
CE