Business Security System Installation and Support.
Pyronix TCD Standalone Digital Communicator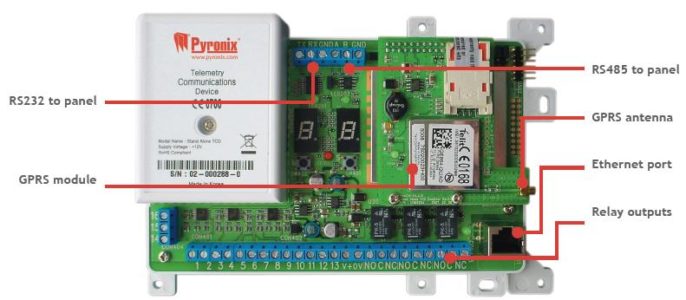 The Pyronix TCD is the latest innovation from one of the leading global players within the security industry.
This universal stand-alone TCD (Telemetry Communications Device), or dual path signalling module, using the Emizon 21 service enables dual path signalling with most manufacturer's control panels. The Pyronix TCD connects your customer's control panel to the Alarm Receiving Centre (ARC) via the Emizon 21 service. It is ideal for retrofits as a replacement to your existing communications device whilst also providing the optimum solution for new signalling installations.
Key Features
Easy to install in 5 simple steps
No programming
Grade 4 EN 50131-1
Future proof, ready for 21CN
Managed IP Communication with Emizon 21 enabled
Emizon 21 is the first secure, managed messaging service designed specifi cally for IP networks. This service manages the end-to-end message delivery between the alarm panel and the Alarm Receiving Centre (ARC). Unlike other services, Emizon 21 actively secures the message delivery, rather than the various paths that the message travels over.
Secure Managed Communication
The Emizon 21 service not only maintains, but often increases the security standards associated with traditional dual path signalling services and is EN 50131-1 Grade 4 signalling compliant. Dual path signalling is achieved by using IP as the primary fixed path and the secondary wireless path is GPRS.
Telemetry Communications Device
A plug and play device connecting the alarm panel to the Emizon Service Platform, via broadband for fi xed, and GPRS for wireless IP networks.
IP
Internet Protocol is the method used to exchange data between two computers or other systems (in this case the alarm system and the ARC) via the internet. The Pyronix TCD uses IP via a DSL (broadband) connection as its primary (fi xed) path.
GPRS
General Packet Radio Service is a standard for wireless communications which runs at a faster speed than GSM. It is idea for sending and receiving small bursts of data, as well as larger volumes. The Pyronix TCD uses Vodafone's GPRS network as its secondary communication path.
Specification
Control panel compatibility
All Panels with ATE Outputs
Alarm inputs
16
Relay outputs
3
Control panel connections
PSTN, RS232, RS485
Status LED indications
5
Engineer interface display
Yes
Remote signalling Fast Format
IP
Dual path option
GSM850/900/1800/1900
Quad-band GPRS transceiver
Yes
Line fail notification on primary path
Yes
Line fail notification on secondary path
Yes
Low battery monitor
Yes
Electrical
Quiescent current consumption
<100mA
Transmitting current consumption
<450mA
Compliance
Security grading
PD 6662, EN 50131-1 Grade 4, ATS 5 for both primary and secondary paths Form 175 compliant
Environmental
Class 2
DD 243
Compliant
Physical
Dimensions
180mm x 123mm x 29mm
Weight
250gm
Antenna Supplied
Yes
SIM card and GPRS contract bundle
Yes