Business Security System Installation and Support.
Castle Care Tech Euro One IP Digital Communicator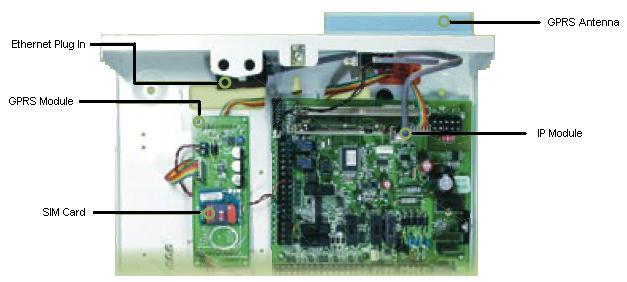 The EURO ONE IP Control Panel with fully integrated IP communication, using the Emizon 21 service is the very latest innovation from Castle Care-Tech.
The EURO ONE IP is supplied 'Emizon ready' with the TCD (Telemetry Communications Device) including the IP and GPRS modules already fitted in the panel. Installation is simple with a step-by-step guide provided and of course, the usual back-support you would expect from Castle Care-Tech.
Key Features:
Selectable EOL or ID Detection
280 Outputs
Over 200 programmable outputs
Plug-on terminal blocks
Contemporary Keypad
Intelligent Power Supply
The EURO-MERiDIAN range means that you and your customers can benefit from advances in technology, be ready for BT's 21CN rollout and at the same time, maintain the highest security standards to face the challenges of the 21st Century.
Plug & Play
Installation is straightforward with no programming or on-site confi guration involved. Simply plug in the ethernet cable to your customer's router, attach the antenna for GPRS signal and wire your EURO ONE to the GPRS module. The EURO ONE IP is not site specifi c and works with broadband from any service provider giving you and your customers the ultimate in fl exibility.
Secure
Emizon 21' is the first secure, managed, messaging service designed and developed specifi cally for IP Networks. The service works by actively securing the message delivery, rather than the various paths that the message travels over, unlike other IP services currently on the market. The Emizon 21 service not only maintains, but often increases the security standards associated with traditional dual path signalling services and is EN 50131-1 Grade 4 signalling compliant.
Cost Effective
There is no connection charge, your customer can use their existing line and they will not incur call charges on either signalling path. The EURO ONE IP gives you all the standard features of this innovative control panel, but with enhanced communication using dual path signalling which is achieved by using IP as the primary path and the GPRS communication as the secondary path. This new development enables you to offer your customers greater functionality and enhanced security with increased cost effectiveness.
Specification
Remote Signalling
Fast Format IP, SIA Level 3 IP, Contact, ID IP
Dual path option
Yes, GPRS
Quad-band GPRS Transceiver
GSM 850/900/1800/1900
Line fail notification on primary path
Yes
Line fail notification on secondary path
Yes
Low battery monitor
Yes
Electrical
Quiescent Current Consumption
<100mA
Transmitting Current Consumption
<450mA
Compliance
Security Grading: EURO ONE IP control panel
PD 6662, EN 50131-1 Grade 3
Security Grading: Signalling
PD 6662, EN 50131-1 Grade 4, ATS 5 for both primary and secondary paths- Form 175 compliant
Environmental
Class 2
DD 243
Compliant
Physical
Dimensions (casing)
390mm x 305mm x 100mm
Antenna Supplied
Yes
SIM card and GPRS contract bundle
Yes
IP
Internet Protocol is the method used to exchange data between two computers or other systems (in this case the alarm system and the ARC) via the internet. EURO ONE IP uses IP via a DSL (broadband) connection as its primary (fixed) path.
Router
Provides the gateway your customer's premises into the global IP network. The router enables the control panel to communicate with the Emizon platform and then onto the ARC.
GPRS
General Packet Radio Service is a standard for wireless communications which runs at a faster speed than GSM. It is idea for sending and receiving small bursts of data, as well as larger volumes. The EURO ONE IP panel uses Vodafone's GPRS network as its secondary communication path.