Business Security System Installation and Support.
Simons Voss Transponder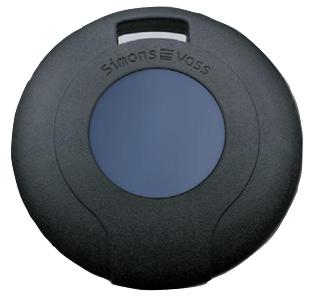 The smoothly rounded hand-held unit will open up to 48,000 doors, including inside and outside doors, cupboards, gates and barriers of all kinds. If a transponder is lost, it can be blocked immediately. Changes in access authorisation can be quickly and flexibly programmed. It requires practically no servicing or maintenance: the high-performance battery lasts for eight to ten years, or around a million operations before it needs to be replaced.
Key Features
The standard transponder in a robust casing with midnight-blue button
Versions identical to the standard transponder but with a dark-red button
Switching transponder with two connection wires enabling the floating contact of an external device to be activated
Integrated lithium button cell
An additional passive chip for integrating external systems
Password transponder for storing the locking system password
Specification
| | |
| --- | --- |
| Reading Distances | 40 cm to the cylinder and up to 120 cm to the Smart Relay |
| Data sets stored | three independent locking systems |
| Diameter | 42 mm, thickness: 13.7 mm |
| Battery Lifespan | up to one million activations or up to ten years on standby |
| Protection | IP 65, with bonded casing IP 66 |