Business Security System Installation and Support.
Simons Voss Smart Relay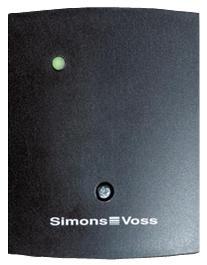 The digital Smart Relay 3063 fulfils the function of an access control reader or a key-operated switch. In the System 3060, it opens electrically operated doors, gates and barriers, and switches lights, heating and machinery on and off. It passes transponder data on to external systems – e.g., time monitoring, canteen billing and facility management. The typical reading range is up to 120 cm.
Key Features
Basic version with integrated antenna, flip-flop function, repeater function
Controls barriers, gates, machines
With access control and time zones
Bus compatible for connecting to external modules
With Smart Output Module for lifts
Can incorporate external systems
Can be networked wirelessly
Typical reading range of 120cm
Specification
| | |
| --- | --- |
| Pulse duration programmable | 0.1 to 25.5 seconds |
| Temperature Range | 0 to 40 °C, storage at –22 to 55 °C |
| Air Humidity | < 95% without condensation |
| Power Supply | 12 VAC or 5-24 VDC (no reverse voltage protection) |
| Power Limitation | Power supply must be limited to 15 VA |
| No-load current | < 5 mA |
| Max. current | < 100 mA |
| Dimensions | 71.8 x 55.4 x 25.1 mm (L x W x H) |
| Dimensions of PCB | 50 x 50 x 14 mm (L x W x H) |
| Protection | IP 20, not suitable for outdoor use |