Business Security System Installation and Support.
Oneprox Vandal Resistant Reader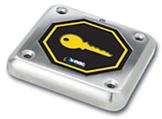 PAC's Oneprox Vandal Resistant Reader meets the tough environmental demands of the public environment applications by withstanding resistant to inclement weather conditions, accidental damage and physical attack. An incredibly versatile access control solution simply by offering a single card access solution for reading both PAC and KeyPAC proximity technologies.
When the reader is active the red light is lit but when a valid key or card is presented a green light appears to indicate that access has been granted.
Key Features
Up to 60mm (2.36in) reading range
Ruggedised vandal resistant construction to withstand harsh environments
Reads KeyPAC (125KHz) and PAC (152KHz) technologies
Two exposed frosted LED's showing door status
A raised tactile key symbol
High visibility key graphics
Audible sounder
Supplied with special vandal resistant screws
Fast and dependable read times
Five programmable output formats
Easy installation with industry standard, low-cost 6-core alarm cable
Compatible with PAC Easikey, Easikey 1000, PAC 2200 series, PAC 202 and PAC 512 door controller series
DDA and ADA audiovisual indication making secure areas equally accessible to disabled users
Lifetime guarantee
Features and Specifications
Features and Specifications
Description
Vandal Resistant Proximity Reader
ID Technology
PAC Oneprox (works with PAC and KeyPAC)
Programmable Output Format
Standard PAC (default), Weigand 26-bit, Weigand 34-bit magnetic stripe or
barcode
Dimensions
H: 100mm W:100mm D:14mm
Weight
400g nominal
Maximum Read Range
Up to 60mm
Environment
IP66 – Indoor/Outdoor weather resistant
Maximum Current Requirements
< 100 mA
Operating voltage
10.5 V to 18 V
Recommended Cable Type
6-core 24 AWG alarm cable
Operating Temperature
-20º to +60ºC
Operating Humidity
0-85% relative humidity non-condensing
Audiovisual Indication
Bi-colour LED (red and green) and audible sounder
Tamper Output
Yes
Vandal Resistant Security Screws
Requires a vandal screwdriver or a yankee 8 bit screw
Material
Stainless Steel