Business Security System Installation and Support.
Access Controller PAC 500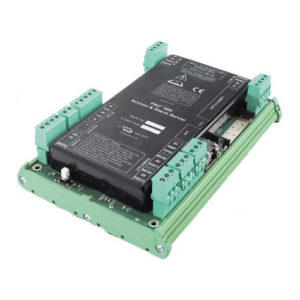 The PAC 500 provides sophisticated access and alarm management for businesses with single or multiple locations across the country or around the world because it is an expandable controller. The PAC 500 is a proven solution which supports a countless number of access decisions, meshes multiple locations seamlessly, centralise management and provides industry standard secure networking.
Thousands of users are ensured secure and high-speed access by embedded Microsoft Windows CE Net and a powerful Intel XScale processor. The PAC 500 is IP enabled which also contributes to providing the highest level of security possible.
Key Features
75,000 keyholders/cardholders
Controls and communicates with up to 48 controllers
10/100 Mbps Ethernet connection
SSL (Secure Sockets Layer) encrypted IP network communications
Two fast RS-485 ports
RS-232 port for a modem connection
Built-in firewall
Dedicated Override and Tamper inputs
Wide voltage operation, 12v or 24v
One polyfused 5A auxiliary voltage output
Backup battery charging and monitoring
Status LED's confirms correct operation
Intel 400MHz XScale processor
Unique One-Touch installation mode simplifies and speeds up system commissioning, without the need for a PC or programming
Microsoft Windows CE Net operating system
64 Mbytes of RAM
32 Mbytes of flash memory
Watchdog reset for maximum reliability
Up to 100,000 stored events (with 20,000 keyholders/cardholders)
Area Anti-Passback across all doors
Mixed distributed and central intelligence
Easy in-field firmware upgrades
Power supply status monitored and reported
Advanced area management features
Area alarm monitoring
Event-to-action scenarios
Local tamper input
DIN-Rail mounting for ease of installation
Features and Specifications
| | |
| --- | --- |
| Dimensions | H: 125mm W: 180mm x D:60mm |
| Weight | 0.4 Kg nominal |
| Temperature | Operating: -10ºC to 55ºC (14ºf to +130ºf) Storage: -25ºC to +80ºC (-13ºf to 176ºf) |
| Humidity | 0 to 85% RHNC |
| Memory Size | 96 Mbytes – 64 Mbytes RAM and 32 Mbytes FLASH non volatile RAM |
| Memory Backup | 32 Mbytes RAM flash memory |
| Status LED's | RS-232, RS-485, Power Status, Aux Power Output, Battery Status, LAN Status & System Status |
| Communication Ports | RS-232 (57,6K bps), RS-485 (57,6K bps), TCP/IP (10/100 Mbps) RJ-45 |
| Wiring Requirements | RS485 – CAT5 up to 1000m, 3000ft total cable or 7/0mm², 24 AWG Alarm Cable up to 500m, 1500ft total cable. RS232 – 7/0mm², 24 AWG up to 7.6m, 25ft max length |
| Module Power | 10,5 VDC bij 390 mA to 28 VDC @ 135 mA |