Business Security System Installation and Support.
Oneprox Mullion Reader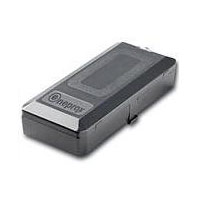 PAC's Oneprox Mullion Reader can read ranges of up to 60mm and is usually powered directly from the access control panel.
The PAC's Oneprox Mullion Keypad Reader has one bi-colour LED that emits a Green or Red light. When the reader is active the red light is lit but when it senses the presence of a valid key or card the red light distinguishes and the green light appears to indicate that access has been granted.
Key Features
Up to 60mm (2.36in) reading range
Reads PAC and KeyPAC technology ID tokens and cards
Fast and dependable read times
Unobtrusive mounts directly onto a door frame (mullion) or any flat surface
Super reliability, consistent read range and low power consumption in an easy-to-install package
Five programmable output formats
Easy installation with industry standard, low-cost 6-core alarm cable
Compatible with PAC Easikey, Easikey 1000, PAC 2200 series, PAC 202 and PAC 512 door controller series
Sealed in a rugged weatherised polycarbonate enclosure to withstand a harsh environment
Lifetime guarantee
Features and Specifications
Description
Mullion-style Proximity Reader
ID Technology
PAC Oneprox (works with PAC and KeyPAC)
Programmable Output Format
Standard PAC (default), Weigand 26-bit, Weigand 34-bit magnetic stripe or
barcode
Dimensions
H: 83mm W:38mm D:18mm
Weight
60g nominal
Maximum Read Range
Up to 60mm
Environment
IP66 – Indoor/Outdoor weather resistant
Maximum Current Requirements
< 100 mA
Operating voltage
10.5 V to 28 V
Recommended Cable Type
6-core 24 AWG alarm cable
Operating Temperature
-20º to +55ºC
Operating Humidity
0-85% relative humidity non-condensing
Audiovisual Indication
Bi-colour LED (red and green) and audible sounder
Tamper Output
Yes
Material
ABS Plastic UL94VO