Business Security System Installation and Support.
Access Controller PAC 512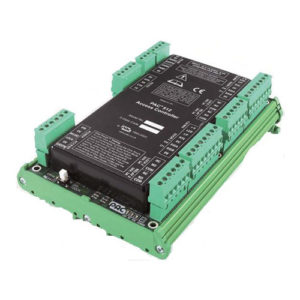 The PAC 512 can control all aspects of two secure doors, with up to two card readers installed as entry and exit readers on each door. This enables the PAC 512 to support a door strike to lock and unlock a door and a door contact to detect the door positions.
A programmed auxiliary input is put on each door which can be used for alarm system integration, and an auxiliary output that enables a buzzer or strobe when security is breached or a door is left open. Each PAC 512 controller has a tamper input, this enables monitoring of cabinet doors, and an override input that can release both doors.
The PAC 512 can be used standalone with optional IP connectivity or as part of a system controlled by the PAC 500.
Key Features
Controls up to two access points/doors
PAC 512 IP includes a built-in 10/100 Mbps Ethernet connect
Supports up to four PAC proximity readers or two Wiegand outputs or two Magstripe readers directly
Battery-backed memory storage
On-board lithium rechargeable battery is monitored and low battery status is reported
Up to 20,000 keyholder/cardholder database and 16,000 event buffer
20 system holidays with 20 start and stop dates and times
200 time profiles with up to 4,000 weekly periods
5,000 access groups, each with two time profiles and two area lists
Area anti-passback and area usage in conjunction with PAC 500
Local anti-passback
Airlock capability in conjunction with PAC 500
Watchdog reset for maximum reliability
Status LED supports all functions including Inputs and Outputs
Individual door access times (DDA and ADA recommendation)
One ancillary input per door channel (two or four state)
Wide voltage operation 10.5V to 28V
Request to exit input (two or four state)
Door contact input (two or four state)
Power supply and battery status are monitored and reported
5 Amp ancillary relay per door channel (independent control via PAC 500)
5 Amp lock relay output per door channel and dedicated enclosure tamper input
Easy One-Touch installation mode simplifies and speeds up system commissioning, without the need for a PC or programming
Override input to open all doors
Lock sharing for doors
Easy in-field firmware upgrades
Dial-up PSTN/GSM modem support (PAC 512 only)
DIN-Rail mounting for ease of installation
Features and Specifications
| | |
| --- | --- |
| Dimensions | H: 125mm W: 180mm x D:60mm |
| Weight | 0.4 Kg nominal |
| Temperature | Operating: -10ºC to 55ºC (14ºf to +130ºf) Storage: -25ºC to +80ºC (-13ºf to 176ºf) |
| Humidity | 0 to 85% RHNC |
| Door Configuration | Each door supports up to 2 Oneprox, PAC or KeyPAC Readers, 1 Wiegand output or 1 Magstripe output reader |
| Supported Reader Protocol | PAC, Wiegand and Magstripe |
| Inputs | Door contact, RTE, and programmable auxiliary input |
| Outputs | 5-AMP single pole double throw lock relay and alarm relay |
| Status LED's | RS-232, RS-485, Door 1, Door 2 and system status, Ethernet transmit and receive status |
| Memory Backup | 3V rechargeable lithium cell (monitored and status reported) – 6 months memory retention when not powered |
| Communication Ports | RS-232 (57,6K bps), RS-485 (57,6K bps) |
| Wiring Requirements | RS485 – CAT5 up to 1000m, 3000ft total cable or 7/0mm², 24 AWG Alarm Cable up to 500m, 1500ft total cable. RS232 – 7/0mm², 24 AWG up to 7.6m, 25ft max length |
| Module Power | 10,5 VDC to 28 VDC @ 220 mA |