Business Security System Installation and Support.
Snap Shot Pro ANPR Speed Cameras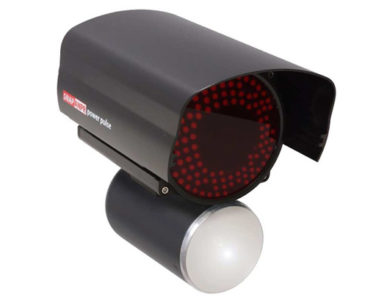 Whilst SNAP ANPR processors will calculate average vehicle speeds using two Snap Shot Pro ANPR cameras, there are many situations when only a single camera will do.
This unique camera uses a speed sensor to accurately measure vehicle speed (5-120mph) at the time the plate is read. Ideal for a wide range of applications including traffic calming schemes and site safety.
Full Specifications:
| | |
| --- | --- |
| Part no | 6130 (6131) |
| Range | 15-55 metres |
| Power pulse IR LED illuminator | Yes |
| Minimum illumination | 0 Lux |
| Shutter speed | 1/1000th sec |
| Resolution (TV Lines) | 460 |
| Quickset keypad | Yes |
| Zoom in | |
| Zoom out | |
| Iris open | |
| Iris close | |
| Focus(auto one-shot) | |
| Image flip (anpr only) | |
| Reset camera | |
| Store | |
| Anpr/overview select switch | |
| RS485 remote telemetry local/remote select switch | Yes |
| Video opto-isolator (anpr) | Yes |
| Video opto-isolator (overview) | No |
| Video level boost (anpr) | Yes |
| Vehicle speed sensor | Yes |
| 5-120 mph range | |
| Directional filter | |
| Approaching vehicles only | |
| Accuracy +/- 1 mph | |
| Licence exempt | |
| Supply voltage | 24v ac (230v) |
| Power consumption | 24w |
| Camera dimensions (HxWxD) | 220x120x195 |
| Junction box dimensions mm | 188x188x130 |
| Weight | 3.2kg (3.9Kg) |
| Flexible steel conduit | 1 metre |
| IP rating | IP67 |