Business Security System Installation and Support.
TrueANPR Bollard Cameras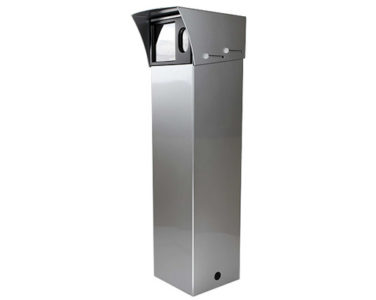 For those locations where fitting a standard Snap Shot camera is just not practical an alternative floor standing Snap Shot bollard camera may ideally suit these applications.
When vehicles identification is required barrier or gate, the camera needs to be at low-level and on the "un-secure" side of the barrier in order to get a clear view of the licence plate.
These bollards are made of heavy-gauge steel and now come with a 3-year anti-corrosion guarantee. They feature a Lexan window and full height lockable rear door which provides internal access. There are no external fixings which result in a tamper-proof assembly.
An internal base clamp allows the bollard to be rotated before being securely locked in position. We recommend that a substantial concrete base is used and, where necessary, that steel or concrete bollards are used to protect the camera from wayward vehicles.
These cameras are available in both standard and dual versions and include all the standard features. The standard finish is powder coat semi-gloss yellow and white, but we do also supply these cabinets in specific colours on request.
Full Specifications:
| | | |
| --- | --- | --- |
| Part no | 6240 | 6241 |
| Range | 3-20 metres | 3-20 metres |
| Power pulse IR LED illuminator | Yes | Yes |
| Minimum illumination | 0 Lux | 0/1.5 lux |
| Shutter speed | 1/1000th sec | 1/1000th / 1/50th sec |
| Resolution (TV Lines) | 530 | 530/460 |
| Quickset keypad | Yes | Yes |
| Zoom in | | |
| Zoom out | | |
| Iris open | | |
| Iris close | | |
| Focus(auto one-shot) | | |
| Image flip (anpr only) | | |
| Reset camera | | |
| Store | | |
| Anpr/overview select switch | | |
| RS485 remote telemetry local/remote select switch | Yes | Yes |
| Video opto-isolator (anpr) | Yes | Yes |
| Video opto-isolator (overview) | No | Yes |
| Video level boost (anpr) | Yes | Yes |
| Vehicle speed sensor | No | No |
| 5-120 mph range | | |
| Directional filter | | |
| Approaching vehicles only | | |
| Accuracy +/- 1 mph | | |
| Licence exempt | | |
| Supply voltage | 24v ac (230v) |  24v ac (230v) |
| Power consumption | 20w | 24w |
| Camera dimensions (HxWxD) | 101x101x101 | 101x101x101 |
| Junction box dimensions mm | 910x220x220 | 910x220x220 |
| Weight | 24kg (25Kg) | 24kg (25Kg) |
| Flexible steel conduit | | |
| IP rating | IP65 | IP65 |