Business Security System Installation and Support.
Proximity Metal Reader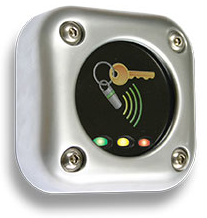 The Proximity Metal Reader is for use with Switch2 and Net2 systems. The reader is contained in cast metal housing which makes it ideally suitable for installing onto metal door frames, car park reader posts etc. Proximity Readers read a token when the token is held within close proximity. When the token has been read the controller looks up all the access permissions of that user and either grants or denies access. The green LED flashes if access is granted, and the red if access is denied.
Key Features
IPX7 Rated – suitable for external use
Use with Switch2 or Net2
Metal Construction
Suitable for mounting on metal
Supplied with security screws and key