Business Security System Installation and Support.
Proximity Keypad – KP Series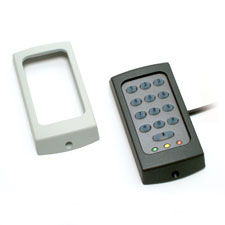 KP Readers are a Keypad and Proximity Reader combined to use with Switch2 and Net2 systems. This allows card plus Pin (or code) access control with a single reader.
The reader reads the token when it is held within close proximity and the control unit then verifies the Pin or Code to either grant or deny access.
Key Features
Use with Switch2 or Net2
Keypad and proximity reader all in one
Read range up to 100mm with proximity cards
Easy Mounting
2 sizes
Low profile – less than 16mm deep
Supplied with a choice of black or white bezels