Business Security System Installation and Support.
CAN WE HELP?Enter your details and we'll be in touch.
Touch Free Access Control
There is a balance between minimising the risk of cross infection throughout the building while facilitating authorised access and maintaining a secure environment.
Touch Free or frictionless Access Control solutions offer an ideal solution.
We offer a range of sophisticated readers that work, with one pass of the hand over the sensor. This ergonomic touchless solution delivers an unmatched combination of security and convenience.

Infrared Exit Switches
Existing Access Control Systems can be enhanced by replacing request to exit buttons with Infrared Exit Switches.
Infrared detection allows to activate the switch with just a hand being in close proximity, without needing to make contact with the device. This is ideal for sterile environments and high traffic areas where physical contact with door controls needs to be minimised.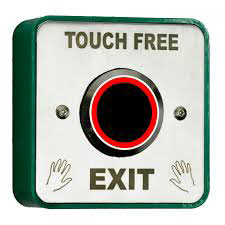 To find out more about our range of solutions and how we can help you to work safely, please complete the contact form on this page, or if you prefer call us 01225 775666 or email sales@alertsystems.co.uk