Business Security System Installation and Support.
CAN WE HELP?Enter your details and we'll be in touch.
People Counting and Density Control
The Government COVID – Secure Guidelines require buildings and facilities to limit the number of people allowed at any one time.
It can be very inefficient to assign members of staff to manage this solution, as it takes them away from their 'day' job. This manual process is also prone to errors, particularly if there are multiple points of entry and exit to control.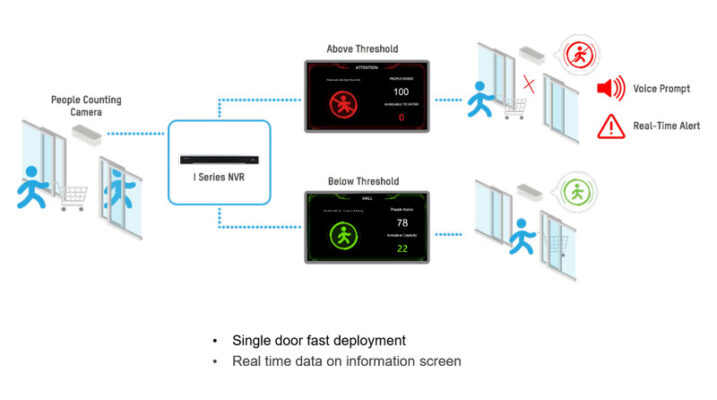 The solutions are easy to use, reliable and accurate while minimising social interaction. They allow you to monitor your occupancy levels and clearly indicate to your customers when they can safely enter the premises.
Our solutions are scalable from a simple single door through to Systems that can manage multiple entrance and exit points.
Density Control Solutions can be further enhanced through digital signage. These units can be used to communicate live information to all your visitors. They are able to combine and display real time data from your COVID-Secure systems such a Temperature Screening, Density Control, and Face Mask Detection solutions along with any digital, video messaging or advertising.
To find out more about our range of solutions and how we can help you to work safely, please complete the contact form on this page, or if you prefer call us 01225 775666 or email sales@alertsystems.co.uk