Business Security System Installation and Support.
360 Vision Technology Thermal Predator Camera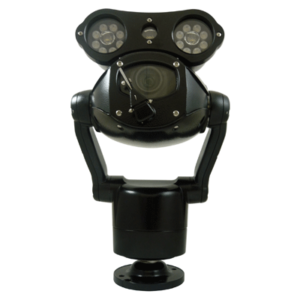 The thermal predator camera interprets data by performing algorithms to build an image. Although the image built shows an approximate temperature at which the object is operating, the camera uses multiple sources of data based on the areas surrounding the object to determine that value rather than detecting the actual temperature.
Advantages of thermal imaging:
Shows a visual picture so temperatures over a large area can be compared
Can catch moving target in real time
Can find deteriorating components
Measure and observe areas that are inaccessible or hazardous
Find defects in shafts, pipes and other metal or plastic parts
Detect objects in dark areas
The camera can produce images with no lighting at all and is ideal for night time surveillance.
360 Vision Technology used their 20+ years Dome experience to bring Predator to the CCTV market, raising the quality threshold and setting new standards within the industry. Predator is UK designed, manufactured and supported with after-sales service back-up that is second to none.
Predator is available in analogue, IP or Megapixel versions, can be mounted in either inverted or upright positions, operates through 180º vertical tilt and is available in black, grey, white or custom colours.
Technological innovations give Predator the edge over its competitors:
Dual wiper limit switches increase wiper life from 7 days (competition) to over 200 days of CONTINUAL use
Triple slip ring technology for preset accuracy and smooth movement
Rain guard around the optical window to reduce water on the glass
IR LED's to reduce operating costs
Full OSD and Dome feature set (Privacy Zones, Alarms etc)
Simple PC setup disk for Protocol and Address settings
Flir Thermal Technology
Without doubt Predator is a market leading CCTV camera, technologically advanced, robust, user friendly and competitively priced.
Key Features:
Multi Protocol integration
Flir Thermal Technology
OSD
Build quality
Motor Motion Design
Economics
Field support
Intelligent alarms
Creative Privacy zones
Low light capability
Colour/mono cameras
Picture freeze
Fast shutter option
Wide range of options
| | |
| --- | --- |
| Multi protocols integration | The PREDATOR range comes with Multi Protocols as standard allowing complete integration with many leading DVR's, Matrices and IP Systems. Protocols built-in include 'TwistedPair' control from 360 Vision, Honeywell, DM, with 'in-coax' control from 360 Vision plus Pelco Coaxitron. |
| FLIR Inside | Flir Thermal Technology inside with lens options up to 35mm for Thermal applications |
| O"SD | PREDATOR'S OSD enables full access to all functions using either 3rd party protocols or 360 Vision control systems. |
| Build Quality | Excellence in Design and Manufacture ensure all 360 Vision products offer exceptional quality combined with ultra reliability |
| Motor Motion Detection | The PREDATOR, like 360 Vision's extensive VisionDome range, use 3 Phase Stepper pan and tilt motors, each giving 400,000 steps, enabling extremely quiet, controllable and smooth with totally accurate operation and exact preset position selection. |
| Economics | The PREDATOR uses only the highest quality components, combined with Innovative Design to support full remote diagnostics and reduce installaiton, operation and maintenance costs. |
| Field Support | 360 Vision staff offer full sales and technical support and on-site commissioning where necessary. |
| Intelligent Alarms | The intelligent alarm module allows up to 144 alarm inputs which can be remotely configured via the Vision matrix or any compatible third party system. |
| Creative Privacy zones | 32 privacy zones are available with simple joystick positioning and sizing. |
| Low Light Capability | Frame integration camera options give useable video images at as low as 0.01 lux. |
| Colour/Mono cameras | The PREDATOR includes 18x, 26x and 36x zoom with Autofocus featuring Ex-View camera technology which gives excellent low light performance with frame integration for usable images as low as 0.01lux. 360 Vision software enables the colour/mono switch over levels. |
| Picture Freeze | The on-screen visible image can be frozen whilst the dome moves to preset positions allowing efficient DVR recording. |
| Fast shutter option | For optimum performance with automatic number plate recognition systems. |
| Wide range of options | PREDATOR options include paint colours with standard colours of Black, Cool Grey or White. PREDATOR range includes: Premade cables of 3,10, 25 and 40m, Wiper system, Twin IR Lamp system, Audio Horn Speaker, Wall, Corner and Post Mount Brackets, Mounting Adaptor, PSU and Washer system |
Predator Camera Features
18x Col/Mono
External
26x Col/Mono
External
36x Col/Mono
External
Colour (C) Col/mono (C/M)
C/M
C/M
C/M
Imager
1/4" ExView HAD
1/4" ExView HAD
1/4" ExView HAD
Zoom – optical + digital
18x, 12x
26x, 12x
36x, 12x
Zoom – total
216x
312x
432x
Line resolution
520
520
520
Pixels
752(H) x 582(V)
752(H) x 582(V)
752(H) x 582(V)
Horizontal view angle
2.8°(T) 48° (W)
2.2°(T) 54.2° (W)
2.7°(T) 57.8°
Lens size
4.1 – 73.8 mm
3.5 – 91.0 mm
3.4 – 122.4 mm
ExView technology
Y
Y
Y
Min sensitivity – colour
0.7 Lux
1 Lux (50 IRE)
1.4 Lux (50 IRE)
Min sensitivity – colour int
0.05 Lux
0.07 Lux
0.1 Lux
Min sensitivity – mono int
0.01 Lux
0.01 Lux
0.01 Lux
Signal/noise ratio
>50 dB
>50 dB
>50 dB
Picture freeze
Y
Y
Y
Picture flip
Y
Y
Y
Thermal Predator Features
TAU 320 FLIR Module available in 5, 9, 13, 19, 25 and 35mm Lens optionsoffering upto 780m Detection, 190m Recognition, 97m Identification (35mm)
Video output
1 V p to p, 75
Scanning
PAL or NTSC
Focus/iris
Auto / manual
Presets
360
Tours
4 (max 128 presets per tour)
Learned patrols
4 mimic tours – up to 30 minutes duration each
Remote reset
Via OSD, IP network or dial up
Dynamic privacy zones
Up to 32, 8 present on screen simultaneously, 4 levels of opacity
Preset titling
YES
Telemetry
Coaxial or RS485 (auto select)
Protocols – includes
RS 485-360, Pelco P, Pelco D; Coaxial-360, DM, BBV, Ultrak, Pelco Coaxitron
Variable pan speed/coverage
0.1 – 120°/sec, 360° continuous rotation, absolute positioning
Variable tilt speed
0.1 – 120°/sec, absolute positioning
Tilt coverage
180°
Auto homing
Goes to preset, tour or mimic tour after prescribed time (menu)
Col/mon changeover
3 levels – menu set up
Line lock
Y – enable/disable
Operating temperature
-20 to 50°C
Power
24Vac 80VA
Recommended PSU
PRED-PSU
Mounting options
Wall, wall-corner, pole, soffit
Operational enhancements
Telemetry and power with opto isolation
Certification
Safety mark : CE approval; Ingress : IP67