Business Security System Installation and Support.
SmokeCloak Thousand Series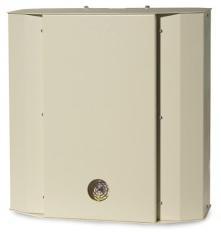 The Smoke Cloak Thousand series provides the solution for all sizes of premises, from small to large retail stores. Utilising a microprocessor main control board, the SmokeCloak is designed to integrate seamlessly into all types of intruder alarm panels. The electronics provide full fault-monitoring of all critical circuits and maximum flexibility for easy connection into any alarm or access control system.
Product Features
Built-In Battery Back-up
Patented automatic smoke density control
Heavy duty sabotage resistant case
Audible tone status signal
Internal system status LED Indicators
Built-in self-diagnostics facility
The electronic fluid measurement system
Extremely dense smoke output for maximum protection
Harmless dry vapour with no negative side effects
Non pressurised the heating based system
Installation
All SmokeCloak products are fully compatible and can be linked into any alarm system. The cloak sensor automatically controls smoke density, regardless of the method of attack, is designed to be positioned in the centre of the room. Optional verification movement detectors can be placed around the room so no unwanted activations occur.
Design and Construction
The SmokeCloak Thousand series is designed and manufactured in the UK and complies BS EN ISO 9001:2000 standard.
Specification
System 1000
System 2000
System 4000
System 4000 X-Stream
System 8000
Dimensions (mm)
475x202x396
475x202x476
75x202x576
Weight
18.1 Kg
21.1 Kg
26 Kg
32.50 Kg
Colour
Beige/White
Fluid
1 x 1L Bottle
2 x 1L Bottle
Electrical
210-240V nominal
110 v – to special order
210-240V nominal
210-240V nominal
110 v – to special order
Power Consumption at 240 V
1.25 KVA
Quiescent 118 watt
1.5 KVA
Quiescent 96 watt
2.5 KVA
Quiescent 120 watt
2.5 KVA
Quiescent 128
watt
2.5 KVA
Quiescent 128
watt
Reaction Time
0.1 sec
Smoke Output (capacity)
100m³-30 sec
180m³-60 sec
155m³-30 sec
310m³-60 sec
255m³-30 sec
510m³-60 sec
550m³-30 sec
400m³-30 sec
800m³-60 sec
Backstop timer
Adjustable 1-25 min in two ranges