Business Security System Installation and Support.
Optex CX502 Passive Infra Red Sensor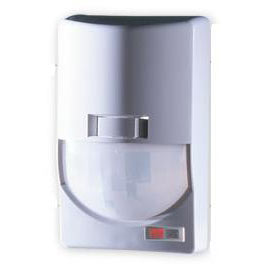 The Passive Infra Red Sensor CX-502 is designed to suit a variety of commercial applications with its extremely stable detection performance. Quad Zone Logic and Sensitivity are maintained through the entire coverage area, even in high temperatures or low temperatures. A high level of false alarm protection is guaranteed by the Double Conductive Shielding and Temperature Compensation.
Key Features
Quad Zone Logic
Advanced Temperature Compensation
Stream Lined Offset Spherical Lens
RFI Protection
Temperature Protection
Sealed Optics
Visible Light Protection
Double Conductive Shielding of the Pyroelectric Element
Quad Zone Logic
Quad Zone Logic provides multi-segmented detection zones throughout the detection area. An alarm signal is created by the cumulated total IR energy of each zone. It is designed to provide 4 to 8 zones for a human-sized object to create sharp and maximum signals for stable detection. Spot temperature changes, i.e. by rodents or curtains etc., may affect only one or two zones at the same time creating a smaller detection signal. These signals are further analysed by the "ECO" Chip and signal processing circuit for accurate detection and filtering out of false alarms.
Advanced Temperature Compensation
Temperature Compensation will increase detection capability under high-temperature conditions where the background temperature is similar to that of the human body. It maintains a high level of false alarm protection while providing accurate detection by automatically adjusting its sensitivity according to the environmental temperature.
Sealed Optics
Prevents drafts and small insects from getting onto the Pyroelectric Element. This practically eliminates the chance of false alarm due to these causes since the Pyro is sealed with the inside moulding of the housing cover.
RFI Protection
No alarm from a field strength of 30V/m within the range of 144 to 1,200MHz.
Double Conductive Shielding of the Pyroelectric Element
Double filtering and conductive metal shielding of the Pyro block out visible light and RFI, allowing only infrared energy to" reach the pyroelectric elements.
Temperature Protection
No alarm in high, low and changing temperatures from -4°F to +122°F (-20°C to +50°C).
Specification
| | |
| --- | --- |
| Model | CX502 |
| Detection Method | Passive Infra Red |
| Coverage | Wide angle 85° wide 50ft x 50ft (15m x 15m) |
| Detection Zones | 82 Zones |
| Mounting Height | 6 ~ 10ft (1.8 ~ 3.0m) |
| Sensitivity | 3°F (1.6°C) at 2ft/sec. (0.6m/sec.) |
| Detection Speed | 1 ~ 5ft/sec. (0.3 ~ 1.5m/sec.) |
| Power Input | 9 ~ 18VDC |
| Current Draw | 5mA (normal) / 12mA (max.) |
| Alarm Period | 2.0 ± 0.5sec |
| Alarm Output | N.C 28VDC 0.2A max |
| Tamper Switch | N.C., Open when cover is removed |
| Warm-up Period | Approx. 1 min. (LED blinks) |
| Power Supply | 9.5 ~ 16VDC |
| LED Alarm Indicator | LED is blinking during warm-up period. Alarm condition |
| RF Interference | No alarm 30V/m |
| Operating Temperature | -4 ~ +122°F (-20 ~ +50°C) |
| Environment humidity | 95% max |
| Weight | 4.2oz (120g) |