Business Security System Installation and Support.
Proximity P Compact Reader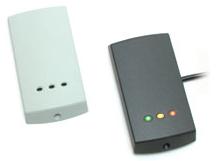 Key Features
Proximity compact is a single door access control reader with the electronics inside the reader. Compact systems can be installed to many doors over a site, all using the same cards. The P series readers are supplied with a choice of black or white fascias that can be fitted in the final stages of installation. Proximity Readers read a token when the token is held within close proximity. When the token has been read the controller looks up all the access permissions of that user and either grant or denies access. The green LED flashes if access is granted, and the red if access is denied.
Up to 10,000 users on one site
Control over access by token colour
Extra card packs available
A lost card can be deleted in seconds
All cards are immediately valid
An Access control system that's easy to use
In order to find out more about our Compact range of Paxton Access Control solutions, take a look at:
If you're interested in finding out a Paxton system will provide your business with a professional and reliable Access Control solution. Then complete our contact us form to speak to a member of our sales team.