Business Security System Installation and Support.
Universal Proximity Reader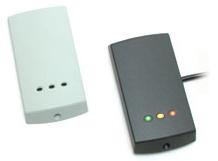 The Universal Proximity Reader is suitable to use with most access control systems providing they accept a clock and data input, as well as PAC controllers that use a single signal wire. The reader can read the token when it is held in close proximity of the reader. When the reader has been read it sends the data to the control unit and depending on the wiring configuration the Red, Green or Amber LED's can be used to indicate whether a card is valid or invalid.
Key Features
Reads multiple technologies, Hitag2, EM4100 and PAC
IPX& rated – suitable for external use
Low Profile – less than 16mm deep
Clock and data output
Use with Paxton Access Net2 and other access control systems