Business Security System Installation and Support.
Avigilon Appearance Search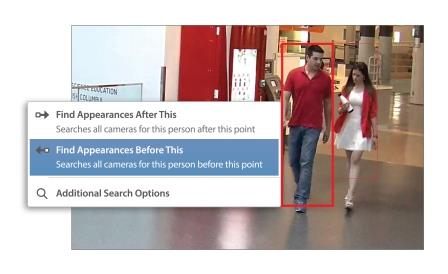 Avigilon appearance search technology is a highly intelligent search engine for video data. It filters through the hours of footage in seconds, to easily locate a specific person across an entire site.
This technology can dramatically improve incident response time and enhance forensic investigation by allowing CCTV operators to build video evidence and create a powerful narrative of events.
The appearance search technology has quick search capabilities which allow operators to scan vast amounts of recorded footage efficiently, grouping video data to track down a person's exact route, identify a previous and last known location and assist investigations.
Appearance Search has been designed to integrate with Avigilon's full line of video analytics solutions. Existing customers will have the opportunity to upgrade certain legacy products to benefit from the exciting new technologies.
Find Out How Appearance Search Works
| Key Features | Benefits |
| --- | --- |
| Quickly search for a person of interest | Enables operators to quickly sort through hours of recorded footage, track individuals routes, identify previous location and assist with investigations |
| Refine searches based on time and camera location | Accurately provides results relevant to the time and place of an event |
| Playback, bookmark and export tools | Allows the flexibility to simultaneously compile a comprehensive set of video evidence from multiple video sources |
| Self-learning video analytics enabled | Works with Avigilon video analytics cameras to generate, record and classify video data for effective searches |
| Integrated with Avigilon Control Centre (ACC) software | Provides advanced video search capabilities to enhance the user experience of the complete Avigilon solution |